Home
>
>
Cathay Pacific records first annual loss since 2008 on Chinese rivals' price cuts
Cathay Pacific records first annual loss since 2008 on Chinese rivals' price cuts
03/15/2017
|
6:44:05 PM
|
中文
Hong Kong airline Cathay Pacific Airways reported its first loss in eight years after competition from Chinese airlines and losses from fuel hedging dented earnings.
The net loss totaled HKD 575 million (USD 74 million) in 2016, Cathay said in a statement on March 15. That compares with the median profit estimate of HKD 450 million by Bloomberg News.
Cathay predicted the operating environment in 2017 would remain challenging, and also said premium travel from Hong Kong was below expectations, prompting the airline to sell such tickets at promotional prices to leisure travelers.
The carrier is executing a revamp to stem the earnings slide as shrinking business travel, pressure from budget operators and more direct routes offered by mainland carriers weigh on its yields -- the money earned from flying a passenger for one kilometer and a key measure of profitability.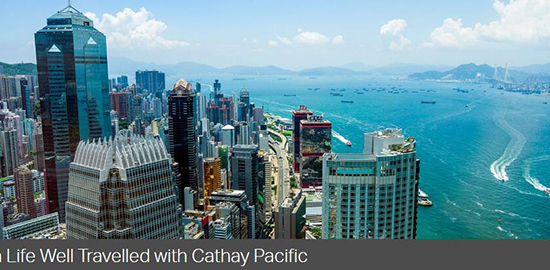 Cathay has been facing competition from operators such Hainan Airlines and Spring Airlines, China's biggest budget carrier.
"The bar for air travel is getting lower as cheap fares are driving growth in the economy class, rather than the premium cabin," Geoffrey Cheng, an analyst at Bocom International Holdings, said before the results were released.
"For those who still travel in the premium cabin, they increasingly favor transfer flights, say in the Middle East, over direct flights if they fly to Europe because it's cheaper than nonstop service," said Cheng.
Under the revamp plan, the company is reviewing revenue management, distribution and pricing practices. It also intends to increase ancillary revenue, and is working to reduce unit costs excluding fuel over the next three years.
Cathay said passenger yield in 2016 fell 9.2% to 54.1 Hong Kong cents, while losses from fuel hedging totaled HKD 8.46 billion in the year, versus HKD 8.47 billion in 2015.
Read original article