Amadeus revenue increases 14.3% in 2016
02/24/2017
|
4:25:38 PM
|
中文
Amadeus reported an increase of 14.3% in revenue to €4,472.9 million in 2016.
February, 24: Amadeus IT Group, S.A., a leading technology partner for the global travel industry, achieved adjusted profit of €911.0 million for the full year of 2016, which represents growth of 21.2% compared to 2015. This growth was supported by an increase of 14.3% in revenue, to €4,472.9 million, and 16.0% in EBITDA to €1,700.1 million.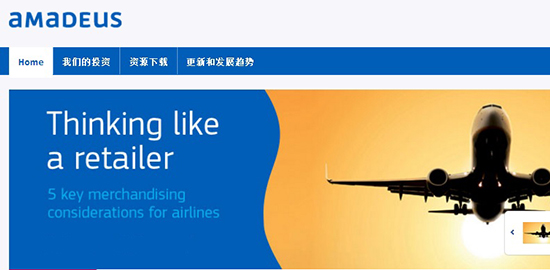 Full year highlights (twelve months ended December 31, 2016)

_ Revenue grew 14.3%, to €4,472.9 million;
_ EBITDA increased 16.0%, to €1,700.1 million;
_ In the Distribution business, total travel agency air bookings rose 5.9%, to 534.9 million;
_ In the IT Solutions business, Passengers Boarded increased 85.0% to 1,382.5 million.

Luis Maroto, President & CEO of Amadeus, commented:

"During 2016, we signed or renewed content agreements with 46 carriers, including key industry players such as easyJet, Emirates and LATAM Airlines Group. KAYAK, the world's leading travel search engine, implemented Amadeus Master Pricer with Instant Search technology".

"Growth in our IT Solutions area was supported by the consolidation of Navitaire as well as the migration of large carriers in Asia-Pacific. Among the airlines that chose to use Amadeus Altéa Passenger Service Systems and New Skies last year were China Airlines, Swiss International Air Lines, Brussels Airlines and Viva Group. In total, at the end of the year, more than 175 airlines had contracts with one of the two Amadeus Passenger Service Systems."

Business highlights for the full year

Distribution

_ Revenue increased 6.8% to €2,925.0 million;
_ Travel agency air bookings rose 5.9% to 534.9 million – outperforming GDS industry growth of 3.1%;
_ Travel agency air competitive position improved by 0.8 percentage points, reaching 43.2%.

IT Solutions

_ Revenue grew 31.7% to €1,547.9 million;
_ Amadeus passengers boarded grew 85.0%, to a total of 1,382.5 million, in the full year period, fuelled by the addition of passengers boarded from Navitaire and a 12.2% increase in Altéa passengers boarded.

Airport IT

Copenhagen Airports in March signed a ten-year IT partnership with Amadeus.

Quebec City's Jean Lesage International Airport also showed its confidence in Amadeus during 2016. In March, the airport announced that it will implement Amadeus Airport Common Use Service (ACUS).