Japanese hotel chain APA Group faced fire from Chinese tourists after a video showed the hotel carrying books that deny Japan's wartime atrocities.
APA said in a statement that the views were based on the findings of its CEO, Toshio Motoya, and were intended to present a "true interpretation of modern history." The chain has "no intention" to withdraw the book from its rooms despite the criticism.
The closely held APA chain operates some 50,000 hotel rooms in Japan, and has been expanding in the U.S.
Searches for APA Hotel on the website of Ctrip.com International, which dominates the China travel market, showed no vacancies on any date, while searches for the hotel on eLong.com yielded no results.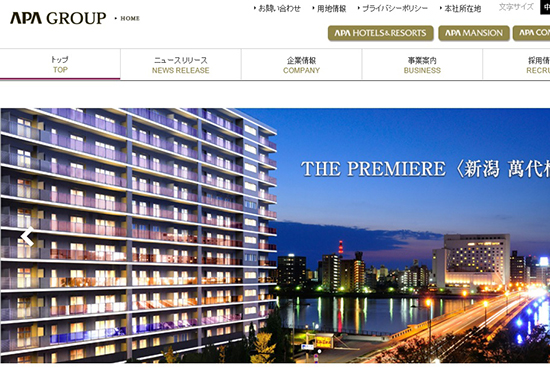 Chinese Ministry of Foreign Affairs spokeswoman Hua Chunying told a regular briefing yesterday that the incident showed some in Japan were "reluctant to look squarely at history" and warned that history shouldn't be distorted by turning a "blind eye" to facts.
Spending by Chinese tourists in Japan has accounted for 39.4% of the country's record-high tourist revenues in 2016, according to data from Japan Times.
The Japanese government's stance is that "it cannot be denied" that the "killing of a large number of noncombatants" occurred, but says "it is difficult to determine" the number of people killed.
Read original article