Airline ancillary revenue has taken off (literally) in the past seven years with the top 10 carriers earning $8.4bn in 2008 compared to the $26bn earned last year.

The amount of ancillary revenue of those airlines ranges from around $1bn for Alaska Airlines up to $6.2bn for United Airlines.

These are some of the findings revealed in the IdeaWorksCompany 2015 Top Ten Airline Revenue Ranking report which is sponsored by CarTrawler.

The report also reveals ancillary revenue expressed as a percentage of total earnings with Spirit emerging in the top slot followed by Allegiant, Wizz Air, Jet2 and Ryanair. Interesting to note that the top three airlines (as per the chart below) are earning more than a third of their total revenue from ancillary sales.

Many of those same names – Ryanair, Allegiant and Jet2 – also appeared in the list back in 2008 as top performers. Back then airline ancillary revenue was around a fifth of total revenue for carriers such as Allegiant and Ryanair.

After fares and other sales, which is 52% of Spirit's revenue, checked bags accounts for 18% of total revenue followed by online and call-centre fee which is 14% of revenue.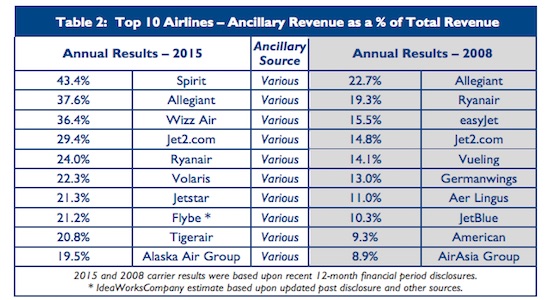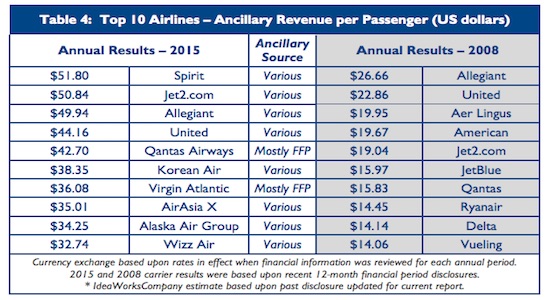 Read original article