Technology-focused private equity group Accel-KKR has acquired a stake in Cendyn, a provider of B2B technology for hotel marketing and event management.

The terms and amount of the growth equity investment were not disclosed. But the investment will support "a rapid expansion plan", a Cendyn spokesperson told Tnooz.

Cendyn was founded in 1996 with sales and marketing tools for hotels that catered to the group business while also doing digital marketing to drive direct bookings. As the cloud software era developed, Cendyn adjusted course, but has broadly stayed within those categories.

The company has 373 employees today, but plans to scale up.

This year the Boca Raton, Florida-based company will add eight more offices in Europe and Asia-Pacific. (In November 2015, it opened an office in Singapore. It already had offices in London and Toronto.)

The company runs Cendyn/ONE, which offers a cloud-based customer relationship management (CRM) tool for hotels and resorts. The tool provides "a single view of that guest's unique history, value, behavior, desire, and interests."

A case in point: the Loews Hotels & Resorts uses the guest engagement and marketing automation solution for its dynamically created marketing across digital channels and touch points, plus for its operations team.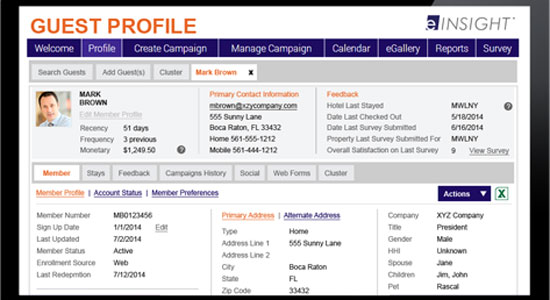 Cendyn also has an events division. In 2013, it acquired Arcaneo, an enterprise tool for running, marketing, and evaluating global meetings and corporate entertainment. A year ago it acquired Ovations Management Solutions, an enterprise solution for managing corporate tickets and entertainment assets, which has been folded into the division.

The combined platform, Cendyn Arcaneo, is used by hotels, pharmaceutical companies, financial companies, and other enterprises to "plan, source, manage, and measure" their global event programs.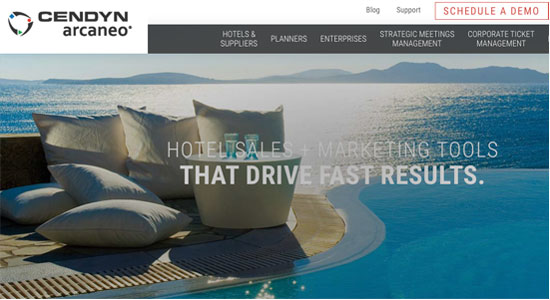 Broader trend?

Integrated CRM is a hot space — an area looked at with interest by companies such as Adobe, Amadeus, Navis, Sabre, and TravelClick.

Two companies whose services overlap and somewhat compete with Cendyn's event-focused offerings are Cvent and Lanyon, both of which have been acquired by affiliates of Vista Equity Partners, a private-equity firm, as the result of Cvent being taken private in a $1.6 billion deal last month.

Cendyn's interest in the B2B event and meetings technology platform is notable, as it is in a segment of the industry that is heating up in an overlapping Venn diagram of aspects: Expedia has expanded its Meeting Market business, while HotelPlanner acquiring Hotel Hotline.

Cendyn's tools also touch on areas that other startups and B2B companies cover. It has a business intelligence system is built on the IBM Cognos reporting engine. It has a survey tool for guest feedback, an "eConcierge" tool to let guests use their mobile devices to request services on-property, a loyalty program management tool, and more.

Accel-KKR is an independent firm, though it started in 2002 as a joint-venture between Accel and KKR. The latter has done some investing in the travel space, such as in B2B rail tech provider Silverrail. But besides new acquisition Cendyn, Accel-KKR's portfolio is otherwise empty of travel companies at the moment.

Across the industry, there have been rumblings — first reported by Tnooz — that venture capitalists, private-equity firms, and large technology companies like Priceline Group and Sabre are mulling the pros and cons of rolling up smaller, cloud-based hospitality solution providers in the hopes of building out a formidable services company.

Read original article