After mainland tourist arrivals plunged last year as policy makers devalued the yuan, foreign-exchange moves may now encourage shoppers back to the city by making alternatives such as Japan and Malaysia more expensive.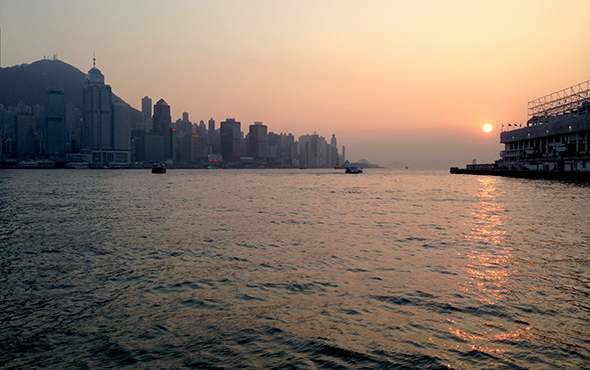 China's central bank has this year kept the yuan closely linked to the U.S. currency, and therefore the greenback-pegged Hong Kong dollar, while allowing it to drop 11.1 percent against the yen and 6.7 percent versus the ringgit.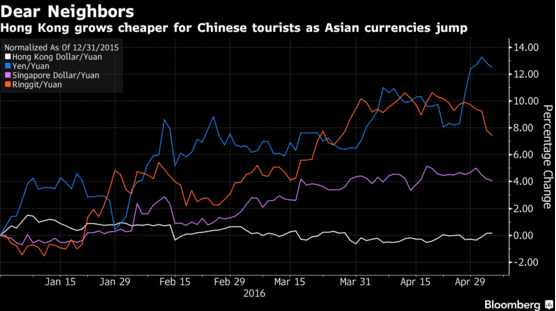 "It will help perhaps put a floor in terms of retail sales," said Sandy Mehta, chief executive officer of Hong Kong-based advisory firm Value Investment Principals Ltd. The U.S. dollar's slump this year will bring some respite to retailers, "but further weakness will be needed to have more of an impact and turn the tide."
The glimmer of hope comes amid a particularly gloomy period for the city's shops as a slowdown in the Chinese economy. Hong Kong retail sales tumbled 12.5 percent in the first quarter as visitor arrivals fell, the government said on Thursday, extending 2015's slump that's prompted a wave of luxury store closures.
There are some signs of improvement for retailers. Visitors from China for the first day of what is locally known as the "Golden Week" May Day holiday jumped 14 percent from a year earlier to more than 200,000 people, the South China Morning Post reported, citing Immigration Department figures.
Sa Sa International Holdings Ltd., Hong Kong's biggest personal-care retailer, on Thursday said its same store sales in Hong Kong and Macau grew 1 percent on year during the holiday. The company's shares jumped 4.6 percent after the report, paring their slide this year to 5.3 percent.
"It does help to provide a little bit of relief from an exchange perspective," said Tai Hui, Hong Kong-based chief Asia market strategist at JPMorgan Asset Management. "However, the performance issue with Hong Kong's tourism industry is not only the currency issue. But it's also the fact that Chinese tourists, which are often the bulk of Hong Kong tourists, have more choices."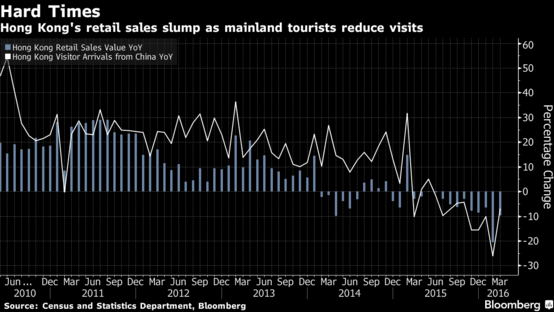 Chinese visitors flocked to Japan in recent years as the declining yen made it cheaper to buy everything from rice cookers to toilet seats. Tourists from China made up 5 million of the record 19.7 million people who went to the country in 2015, according to the Japan National Tourism Organization.
Relaxed visa rules, frequent flights and short journey times favor Japan, South Korea and Thailand for Chinese travelers, who make up about 10 percent of global tourism, according to Bloomberg Intelligence. Australia and Russia have also gained in popularity. The Hong Kong Tourism Board estimates that the number of tourists from the mainland will drop 3.2 percent for the year and their average spending will shrink 4 percent.
Read original article