Tension between South Korea and China is hurting tourism
South Korean consumer shares are now among the nation's worst performers this year as a missile spat cools the relations with China.
A measure of such companies on the MSCI Korea Index has tumbled 5.9 percent in 2016 after its best annual gain in a decade sent valuations to a four-year high relative to the broader gauge. Orion Corp., a confectioner that earns more than half its revenue in China, and cosmetics maker Amorepacific Corp. are among the biggest decliners as the U.S. and South Korea consider installing the Thaad missile-defense system on the peninsula.
Policy makers in Beijing have objected, saying the shield designed to protect against North Korea's nuclear threat covers more Chinese territory than the Koreas combined.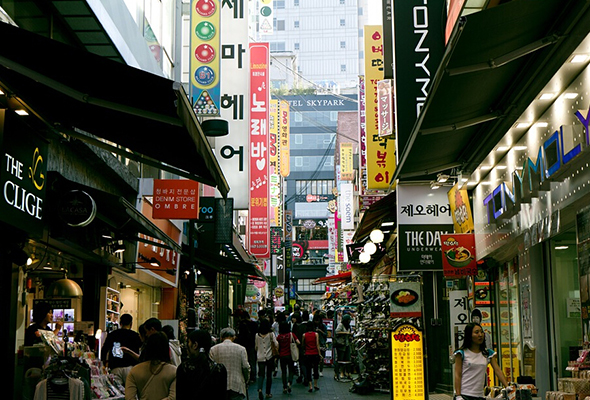 The MSCI Korea Consumer Staples Index last month capped its worst month in more than a year after North Korea launched a long-range rocket on Feb. 7, following a January nuclear test by Kim Jong Un's regime. The 7 percent drop in February followed a 42 percent rally last year.
At just under 21 times its projected 12-month earnings, the gauge has fallen 16 percent off its peak valuation. Its decline this year came even as the yuan's 4.9 percent gain against the Korean won made local goods cheaper for Chinese tourists.
'Destroy' Relations
China's displeasure matters to South Korea. At $280 billion a year, South Korea's trade with China is equivalent to that of its next four trading partners combined. The nation also received 5.9 million Chinese tourists in 2015, the leading source of visitors.
Qiu Guohong, China's ambassador to the nation, said the deployment of Thaad could "destroy bilateral relations in an instant," according to a Yonhap News Agency report last week. The remark led South Korea's foreign ministry to summon Qiu to protest, according to another Yonhap account.
Everlasting Demand
Not everyone expects a lasting impact on consumer companies. Michael Na, a Seoul-based strategist at Nomura Financial Investment Korea Co., says he's still bullish on Korean consumer shares and that such periodic corrections are to be expected as the U.S. raises interest rates. Regina Hahm, an analyst at Daewoo Securities Co., sees enough room to grow for Korean cosmetics companies as they still have a low share of China's domestic market.
"Just a few months ago, many people thought Chinese demand for Korean products would be everlasting," said Na. "But now, there is a big question over that belief."
Read original article