New Year leadership shuffle at Qunar
Qunar has promoted its head of mobile to CEO with immediate effect as part of a New Year management shake-up while CEO CC Zhuang become a special adviser.
Tnooz, Martin Cowen - Qunar has promoted its head of mobile to chief executive officer with immediate effect as part of a New Year management shake-up which sees current CEO and co-founder Chenchao "CC" Zhuang become a special adviser until the end of the current quarter.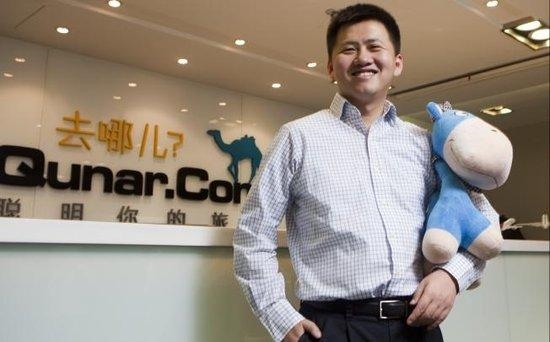 Qunar CEO and founder CC Zhuang to become special advisor
The new CEO is Zhenyu Chen, who joined Qunar in 2010. He became executive vice president of Qunar and head of the mobile business group last November. His CV also includes a stint from 2001 to 2005 at Baidu.
Baidu of course was Qunar's biggest shareholder until last October's share swap agreement with Ctrip which saw Baidu end up with a 25% stake in Ctrip and Ctrip with a 45% stake in Qunar.
Current CFO Yilu Zhao is also being replaced, with Xiaolu Zhu taking on the role. He is promoted from senior director of strategy and investor relations.
CC's and Zhao's positions as special advisers will give them "significant roles in supporting the cooperation between Ctrip…" but only until the end of the current quarter. In the official announcement CC's departing quotation says: "Yilu [Zhao] and I will continue to be deeply involved in the innovation and technology space. It's incredibly exciting, and we are very much looking forward to the future."
Meanwhile, Qiang Zhang becomes its chief operating officer, promoted from executive VP and head of destination services business group.
Reading between the lines, the changes appears to undo an "organizational realignment" announced by Qunar in September, before the Baidu share-swap. The executive VP roles were created to give CEO-level responsibility to three new business units within Qunar. It is not clear whether Qunar will continue to be run around these three units or whether its priorities have changed as a result of its co-operation and equity agreements with Ctrip.
The September shake-up came as a result of the very public row in August between Ctrip and Qunar over a confused takeover bid, with Ctrip saying at the time that it had rejected Qunar's overtures because of "recent earnings performance and corporate actions."
Elsewhere, a Chinese language news site is reporting that Alibaba has stopped selling Ctrip inventory on its standalone travel site Alitrip in response to Ctrip's relationship with Baidu.
An Alitrip spokesperson responded to emailed queries with the "we do not comment on market speculation" line.
Read original article