Lufthansa touts Google as big-name partner, direct-connects starting elsewhere
11/05/2015
|
3:23:35 PM
|
中文
Lufthansa is forging ahead with its efforts to establish partnerships with intermediaries and other travel brands – with Google going live this week.
The airline is currently embroiled in a bruising battle with the global distribution systems (Sabre, Travelport, Amadeus) after imposing a Euro 16 fee on any ticket sold through their respective agency customers.
Lufthansa wants intermediaries to book direct, rather than using the GDSs, so at the same time as introducing the Distribution Cost Charge in September it has been trying to encourage use of its own portal.
In parallel, Lufthansa is signing up direct-connect distribution partners and also starting to establish relationships with metasearch engines.
Arguably the most high profile of a clutch of friendly intermediaries is Google.
Travellers using Google Flight Search will now be able to secure tickets directly with the airline via a Book On Google button featured in the search results.
The feature is only available at present to users in the US and will be on both desktop and mobile versions of Google Flight Search.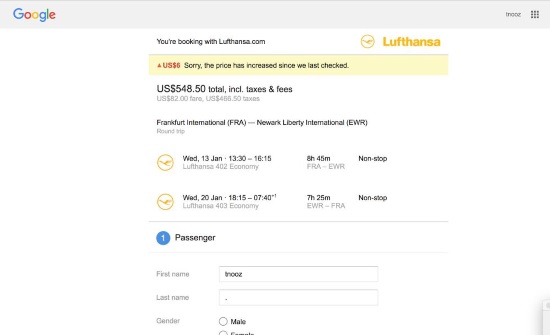 Passengers complete their booking using Google Wallet.
The growing partner network for direct bookings, announced today alongside Google, includes German ticket wholesaler AERTicket and Bucher Reisen, a major tour operator in the country.
Previously disclosed partners are metasearch technology provider Travelfusion and Interes.
The airline claims "direct connect solutions with additional partners are in the works", with it collaborating with a number of third parties to create a switch between intermediaries and Lufthansa's direct portal.
One such company is DCS Plus which this week has announced it is one of the first technology providers to get access to the system, giving intermediaries the chance to book Lufthansa, Austrian Airlines, Brussels Airlines and Swiss International Airlines via both GDS and direct channels.
This will include the new fare structures on Lufthansa, such as light, classic, flex and business.
Google has in recent weeks been spoken of as likely partner for IATAs NDC standards initiative, as well as introducing direct-connect booking for its hotel metasearch service.
Read original article