Beacons lighting the way for airport investment
11/02/2015
|
4:32:09 PM
|
中文
Sensor technology, think beacons, is high on the investment list for airports in the next three years.
Not only are airports looking to deploy the technology to ease congestion for passengers within the airport but they are also seeking to use them for 'on the day of travel' services by combining it with mobile applications.
According to the latest Airport IT Trends report from SITA, 30% are planning major investment in sensor technology to help ease bottlenecks while 51% are evaluating the technology.
Some 17% say they have already deployed beacons at security and 44% plan to do so by the end of 2018. Only a small number, 6%, are using the technology at check-in but 55% say they plan to within three years.
When it comes to 'on the day of travel' services, areas such as wayfinding and flight status notifications are on the cards for 61% of airports while notifications such as parking availability and queuing times are planned by 58% of airlines.
Overall, the SITA study shows passenger processing as top of the list of airport investment priorities for 73% of respondents followed by operations for 40% and baggage processing for 39%.
Airport IT spend in general is increasing, accounting for 4.41% of revenue in 2013 and rising to 5.82% in 2014.
Last year airport IT investment rose fo $7.4 billion, an increase of 37% on 2013.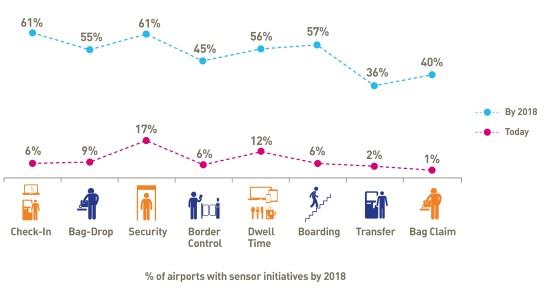 Business intelligence to improve passenger flow as well as help manage disruption is also highlighted as area for investment in the study with more than 60% of airports saying they plan to equip staff with mobile apps to help handle disruption by the end of 2018.
Overall, 55% say they are planning business intelligence initiatives to manage passenger flow in the next three years. Just over one third already use BI data for revenue optimisation.
Airports say there is value from using BI to track staff and assets, 68% while 49% see value in using the data to encourage passengers to spend more time at the retail outlets.
Wearables is also one to watch in the next few years with 14% saying they expect to have a major programme and the betting is on smartwatches with 22% saying they plan to deploy or experiment with the gadgets. Only 7% express an interest in headset type wearables.
Read original article