Consumer survey points to the offline vs online travel landscape
10/16/2015
|
12:02:36 PM
|
中文
Travel agents are most likely to get bookings from consumers when the product is of high value, last-minute or an extended trip.
Or so says UK travel agency organisation ABTA in the results of a study released this week to coincide with its annual Travel Convention.
Normally such studies could be viewed with some degree of scepticism given the results and the commissioning group for the research, but there is a need for some pause for thought.
The 2,000-person study was carried out online – a methodology which often steers the results in favour of a web-based bias.
So what did the results actually say?
ABTA asked leisure travellers about the likelihood of the channels they would use for booking certain types of trips: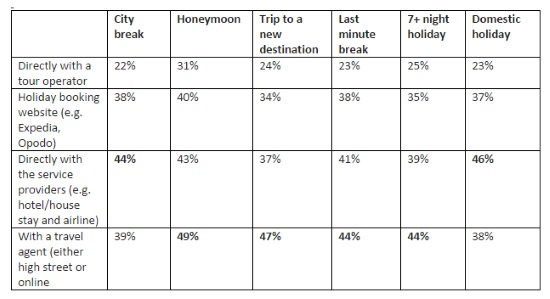 The research also included the now traditional question about the devices used by travellers to book services on the web.
For 2015 (compared to 2014):
· Tablet – 24% (up from 18%)
· Mobile – 16% (down from 17%)
· Desktop/laptop – 91% (down from 93%)
And, also, broken down by age group:

ABTA CEO Mark Tanzer says:
"The findings suggest that where travel professionals really come into their own is assisting people with higher value and more complex trips and providing that personal touch and insight.
"For example, a honeymoon is a big investment, both emotionally and financially, and people value that added assurance of knowing things have been taken care of by a professional.
"It is encouraging to see holidaymakers recognising this and continuing to seek that expertise, whether they find it online or on the high street."
Read original article