What factors are most important to travellers when reading web reviews?
09/11/2015
|
12:05:28 PM
|
中文
An eye-tracking study of hotel search behaviour has revealed the attributes at the heart of decision making by leisure and busienss travellers.
The research was carried out by online reputation management provider TrustYou in conjunction with the school of hospitality management at Pennsylvania State University.
Respondents were asked to view a snippet of a hotel review on various websites and then select a property they would be most likely to buy based on the following factors:
· Room
· Breakfast
· Service
· Wellness
· Wifi
· Food
· Cleanliness
· Amenities
· Comfort
Against those factors, leisure travellers were analysed on the following trip scenarios:
Romantic beach vacation
Romantic mountain vacation
Romantic city vacation
Casino vacation with friends
Family beach vacation
Family city vacation
…with corporate travellers on:
Business travel in a luxury hotel
Business travel in a budget hotel
Based on how their browsing behaviour was recorded during the test, the report found out the following…
Leisure travellers are mainly looking for indications of cleanliness and comfort in reviews, with participants rating them 61% and 43% respectively as "extremely important".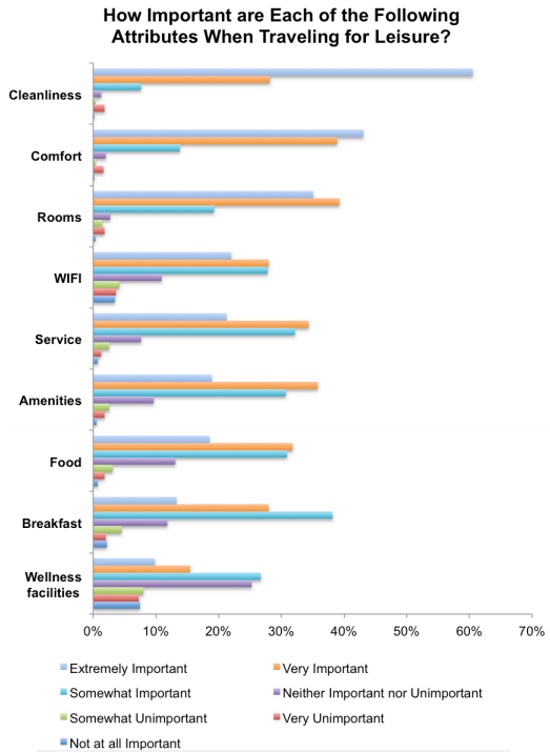 Inevitably the results alter when elements such as frequency of travel are taken into consideration.
For example, wifi and wellness facilities are more important to travellers who have taken four or more leisure trips in the past 12 months.