Home
>
Ground Services
>
Mobile rules, but offline, too, is pivotal as car rental brands scale up
Mobile rules, but offline, too, is pivotal as car rental brands scale up
Car rental and service providers in China are looking at mobile for growth and cost controlling but that doesn't mean that offline touch points are going out of favour.
ChinaTravelNews, Ritesh Gupta - Auto mobility provider CAR Inc. and eHi Car Services are pursuing ways, banking on both offline and digital avenues, to sharpen their customer touch points in a category marked by intense competition, featuring over 10000 car rental operators across China.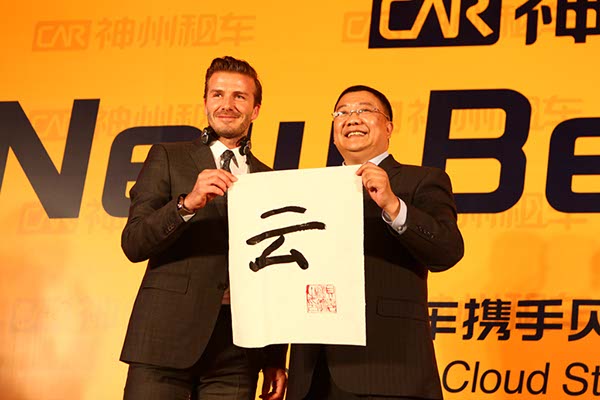 CAR Inc gets major starpower endorsement from popular footballer David Beckham
CAR continues to consolidate the performance of its mobile application, so much so that the same is resulting in improved financial results quarter after quarter. Another highlight for CAR, according to its chairman and CEO, Charles Lu, has been its association with UCAR. The group believes it is strengthening its foothold in the mobile-enabled chauffeured car service market.
On the other hand, eHi is clear that its network expansion strategy would entail introduction of directly operated stores and pick-up points. This way the company is going to make sure that it ends up offering top-notch service, shared Ray Zhang, eHi's chairman and CEO during Q2 Earnings Call.
Banking on efficacy of mobile app
As CAR shared its interim result for this year, it emerged that reservations via its mobile application has risen to almost 58% of the entire pie.
CAR has managed to more than double its mobile app reservations share, stepping it up from 27.6% for the January-June period last year.
In June alone, this figure was over 60%. In December last year, the percentage was 51%.
As the chunk of revenue generation from the organization's mobile app is going up, the company is succeeding in bringing down its selling and distribution expenditure, too. Of course, there are factors such as brand awareness that are also contributing in the same. But without doubt the mobile app is playing its part diligently at this juncture.
If we go back and assess the contribution of mobile app, then reservations as a percentage of total base increased from 6% in the first quarter of 2013 to 46% for the three months ended December 31, 2014. Also, the company's selling and distribution expenditure came down by close to 40% or so from RMB152.7 million in 2013 to RMB92.7 million last year, again mainly due to the increase of reservations via mobile application. Other factors that contributed in the same were trimming of long-term rental sales force and curtailed brand marketing needs. As a percentage of total rental revenue, CAR's selling and distribution expenses went down from 6.9% in 2013 to 3.3% last year.
The mobile application had approximately 7,000,000 installations at the end of 2014.
The company underlines that its information platform has driven growth in the usage of its mobile application.
CAR Inc. terms itself as a technology-driven company. This is accentuated by the fact that the team has worked on a platform that assimilates all key components of operational management process. So be it for revenue generation, financial management, information about customers or fleet management, the team evaluates all transactions and consumer data to elevate the overall customer experience.
The company also shared that it has upgraded the handheld devices that are used at all pick-up points.
This is paving way for quicker processing, and more efficient transaction and fleet management. Also, the BI system is stepping up the yield, though exact information wasn't shared.
Offline is equally attractive area to invest in
For its part, eHi shared that over 55% of eHi's car rental reservations came from mobile devices in Q2. Its quarterly net revenues increased 69.4% year-over-year.
In total, 80% of reservations were accounted by via mobile and the website. During Q2, the company had more than 369,000 mobile application downloads.
"We are also exploring ways to cooperate with social networking platforms such as WeChat," said Zhang.
There are other reservation channels too, such as call centre or local stores. The company isn't ignoring the significance of directly operated stores and pick-up points.
eHi generally finalizes lease agreements for stores with terms of three-five years. The company's vehicle operating expenses increased last year by almost 37% last year, and this included store expenses of RMB14.4 million, as part of national expansion in 2014.
A key aspect about the stores is real-time management of data.
The service location management system controls reservations, inventory level and accounting functions at each of its stores, according to the company. Also, the infrastructure is equipped to assess operating data of each service location on a real-time basis.
eHi has a selection criteria for choosing the location of its stores and pick-up points. The company specifically looks at transportation hubs, major office buildings, shopping areas etc.
Store expenses as a percentage of net revenues tend to be around 6% over the last three years.
Till last year the company operated a network of 1,180 directly operated service locations, which included 324 stores and 856 pick-up points.
Another key area that the company focused on during Q2 was its vehicle-related depreciation. Zhang shared that initiatives are being taken to improve upon the depreciation costs structure.
"Since 2014, we have participated in vehicle buyback programs, which allow us to sellback vehicles to car dealers at the predetermined prices, after a one or two-year holding period, with requirements on certain vehicle conditions and mileage. As of June 30, 2015, approximately 80% of our period-end fleet is subject to such buyback programs," he said.
Fleet expansion
Expectedly, fleet size continued to swell. For CAR, its operating fleet size was 80,646 vehicles after Q2, compared with 58,773 vehicles in 2014.
In case of eHi, its total period-end fleet size rose by over 98% y-o-y to 30,530 till June this year. The size was 15,409 vehicles after June last year.
Going forward, CAR is expecting a spike in demand for short-term self-drive services and also attractive spurt in the chauffeured car service market.
eHi expects sustained momentum across its business segments throughout 2015.
According to Zhang, the past couple of months have witnessed eHi supplying vehicles to Didi car hailing platform. "In addition, we are in the process of finalizing our cooperation with Dazhong Group for both car rentals and car services," he said. "These new activities are complementary to our car rental business and are expected to improve our fleet utilization rates during weekdays as well as improve operating efficiency," he said.