Macquarie reports online travel growth in China shows no sign of slowing down
China's online travel market revenue will grow at 27% over 2014-18F, vs 13% for the overall travel market, with online penetration rising from 9% to 15%.
Research from Macquarie Group into the online travel market in China has identified packages as the sector with the greatest potential.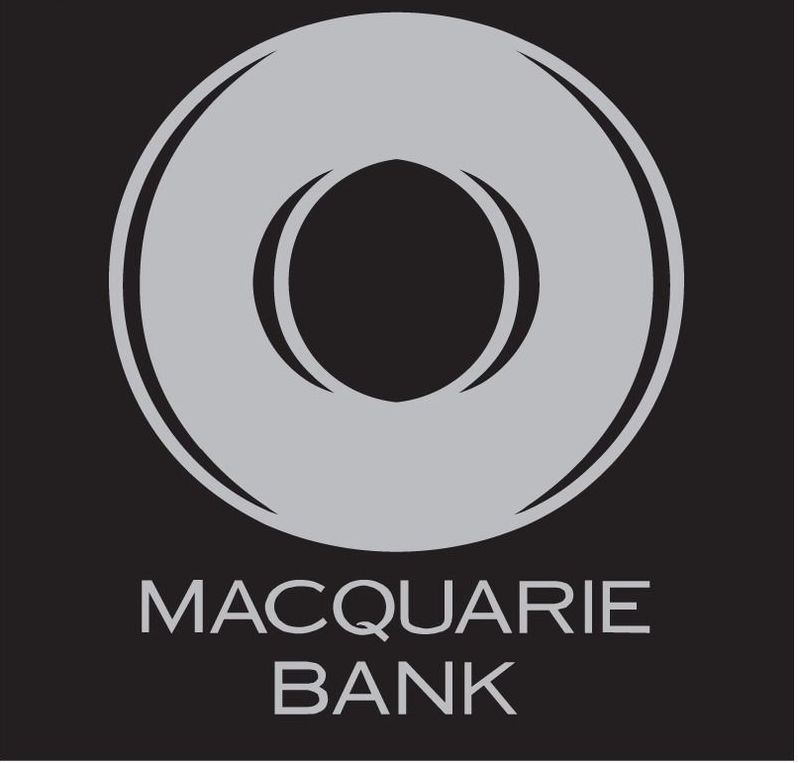 A detailed paper, shared with Tnooz, references company information, government and private sector bodies research and its own proprietary findings.
The paper is called "China internet – a tale of two travel sites" and compares and contrasts Ctrip and Qunar from an investor's perspective. It sets the scene with a detailed look at the overall Chinese travel market, online and offline, before drilling down into the specifics of China's two biggest OTAs.
Of the many telling stats in the report, this one stood out as an indicator of how much room for growth there is in the market:
"In 2014….Ctrip and Qunar reported total GMV of Rmb152bn ($24 billion) and Rmb83bn ($13 billion) respectively. By the end of 2014, Ctrip had 49% of the total market share whereas second-place Qunar had 27%, per iResearch. However, putting Ctrip and Qunar in the context of overall travel market in China, they are taking less than 5% and 3% share and therefore ample room for both to take share from offline players in the long term."
There are two dynamics at play here – the battle for share between the online players and volume of business which is currently being transacted offline and which is primed to move online.
Macquarie estimated that:
"China's online travel market revenue [will] grow at 27% over 2014-18F, vs 13% for the overall travel market, with online penetration rising from 9% to 15%.
And it also draws up a bar chart to show how China compares with other markets in terms of online penetration: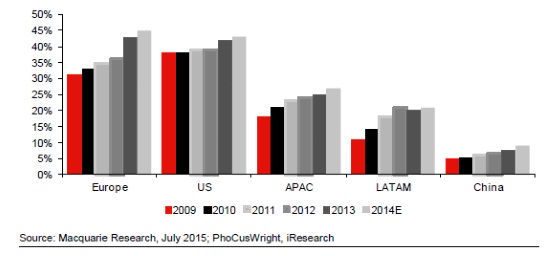 Emerging and maturing at the same time
Another interesting dynamic at play here is that while the online travel market in China is still growing, there is not only consolidation among the major players with an influx of overseas interests but also a spate of new entrants and well-funded startups. The former suggests a mature market, the latter an emerging one.
Macquarie outlines five different types of corporate activity which fall under its definition of consolidation.
Foreign players' consolidated presence in China and closer tie-up with Chinese
companies
ie Priceline's strategic partnership and investments in Ctrip
Consolidation among online players
ie Ctrip buying into eLong
Integration of offline tourism resource with online distributions
"In June 2015, a leading self-guided tour and attraction ticketing site, Lv Ma Ma received a Rmb500m ($80 million) investment from Jinjiang International Hotels"
Consolidation initiated by offline companies
Wanda investing $500 million into ly.com
Wanda led a Rmb6bn investment with Tencent and Citic Capital in largest attraction ticketing site LY.com
Integration of offline and online agencies
Qunar investment in Travelling Bestone
The paper doesn't reference new entrants and startups specifically, but if it did then HNA Group and NetEase's proposed OTA would warrant a mention.
Also noticeable by its absence in the discussion is Alitrip – Alibaba's standalone travel division which was launched to great fanfare last October but has not really made its present felt, yet.
As part of the Alibaba Group it can hardly count as a startup but is another player to factor in to the Chinese online travel mix, particularly in light of the offline to online shift, something its parent company has excelled at.
Sector specifics
Macquarie talks about the Chinese online travel market as having three sub-categories – transportation ticketing, hotel booking and packaged tours.
Transport's biggest sub-sub-category is air, and in terms of transaction value, the overall online market air is by far bigger than hotels.
This might come as a surprise as the online travel agencies in Europe and North America, which tend to view air as a loss-leading way of selling hotels, as there is a lot more margin to be had in a bed than a seat.
China's big three airlines – Air China, China Eastern and China Southern – have dropped commission rates to zero and many OTAs in China are effectively selling air at a loss by offering discounts – the report notes that ly.com spent RMB1 billion ($160 million) on discounting air tickets in 2013 alone.
But third parties, even if they are having to sell at a loss, will still remain a big part of air distribution in China – Macquarie believes that direct sales of the big three airlines will level out at around 40% of their total. Other airlines, of which there are many in China, may have a different approach.
The paper also talks about the impact that China's high speed rail (HSR) network is having on the domestic aviation industry, offering a service which compares well when it comes to price, service and network. China's HSR network is growing constantly and in 2014 it carried 800m passengers, almost double the number who flew.
There are no details in the paper about the online distribution of rail tickets.
But for anyone interested in really big growth potential, look at buses. Macquarie compares the 405 million domestic air passengers in 2014 and the total number of rail passengers (including those not using the HSR) of 2.4 billion with buses, which carried 19.1 billion. And the online penetration of that sector is 0.1%. "Room for ample growth" indeed.
Ctrip noticed this and added online bus bookings in April 2014 and hit one million bookings a month during Q2 15. Buses are seen as essential to Ctrip's claims of offering a one-stop shop to Chinese travellers, and also gives it the chance to upsell hotels and other ancillaries.
Room for hotel expertise
The hotel sector in China offers a text-book definition of fragmentation, the market dynamic in Europe which allowed the OTAs to flourish. In China there were more than 13,000 star-rated properties in 2013, and there are also another 13,000 or so economy hotels – branded chains which are not star-rated as such.
As a quick rule of thumb, the economy hotels are more likely to be interested in direct bookings than the star-rated ones but not exclusively. And a lot of the star-rated properties need help with their PMS/CRS IT set-up as well as distribution.
So for OTAs with some hotel expertise among their investors, this is a massive market to go after – by revenue, online accounts for only 21% of the entire Chinese hotel market.
However, one caveat to the growth story is the extent to which the OTAs have been discounting hotel rooms by offering coupons. In air, a discount or coupon means the OTA is selling at a loss but with hotels an OTA can still offer a discount and keep some margin for itself, in theory at least.
Discounting is also a way for OTAs to acquire new customers or maintain loyalty.
Macquarie however believes that the discounting frenzy which has driven OTA hotel bookings is likely to subside this year, which is probably a good thing.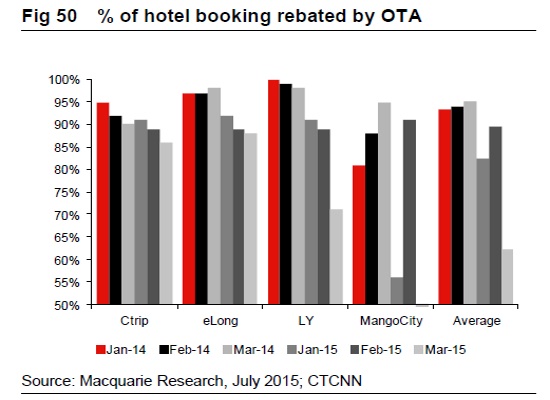 Packaging unwrapped
Interestingly, Macquarie believes that the sector which has the biggest growth potential for OTAs in China is package tours, broken down into local, domestic and overseas packages. Clearly the low base helps in terms of the growth projections, as does but the fact that OTAs can do packages better than the offline businesses which currently dominate the market.
It references iResearch figures – online package tours in China will reach Rmb87bn ($14 billion) in 2016, up from Rmb45bn ($7 billion) in 2014 giving a CAGR of 39% during the period. Online penetration is also expected to rise from 10.5% in 2014 to 15.4% in 2016.
International tours are currently the most valuable types of package, and this sub-sector will grow in line with increasing household incomes and the aforementioned offline-to-online shift.
And it is also worth noting that while self-guided tours – or independent travellers as we call them in Europe – account for 55% of the total package spend, there is still a lot of mileage in group travel, both domestically and internationally.
Read original article