Home
>
Destinations
>
China's economic slowdown adds to Hong Kong tourism industry woes
China's economic slowdown adds to Hong Kong tourism industry woes
After anti-China and pro-democracy protests, a slowing economy and Xi Jinping's anti-corruption and austerity campaigns have hit HKs tourism and luxury industries.
For Hong Kong, it's been one thing after another when it comes to China.
A series of anti-China and pro-democracy protests last year prompted stores to close and mainland tour groups to cancel bookings. Meanwhile, a slowing Chinese economy and President Xi Jinping's anti-corruption and austerity campaigns have also made the Chinese more wary of buying pricey cognac and Gucci bags in the city.
While the biggest outbound destination for Chinese tour groups last year, Hong Kong is in danger of losing its lead to regional rivals such as Thailand and South Korea, as well as mainland alternatives including Shenzhen and Shanghai. Mainland Chinese travelers to Hong Kong last year grew by the slowest pace since 2009, Bloomberg Intelligence data show.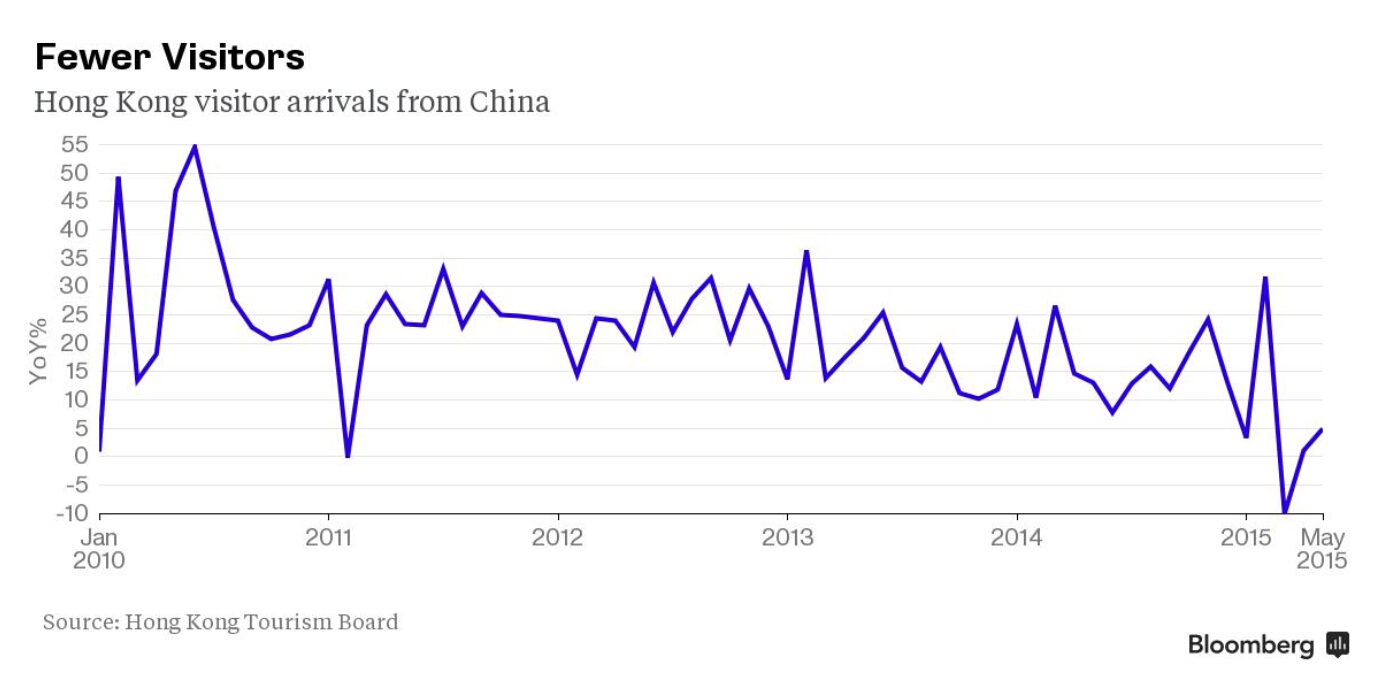 Chinese tour group visitors to Hong Kong plunged 40 percent in the first two weeks of July compared with the same period a year earlier, the Hong Kong Economic Times reported Monday, citing Michael Wu, head of the city's Travel Industry Council. With fewer mainland Chinese staying overnight, average daily rates at Hong Kong's hotels fell for a ninth straight month through June.
In addition, China slashed tariffs on products such as face creams and imported sneakers from June 1, reducing Hong Kong's draw as a cheaper shopping destination.
The effect on Hong Kong's retailers has been immediate and painful. Retail sales fell in four of the five months through May, with jewelry, watches and other high-end gifts the worst hit.
Burberry Group Plc, whose stores in Hong Kong's Causeway Bay and Tsim Sha Tsui shopping districts sell HK$18,500 ($2,400) handbags and HK$24,000 dresses, has said it may try and lower its rent bill to offset a worsening slump in Hong Kong, while Emperor Watch & Jewellery Ltd., which sells Cartier and Montblanc watches, said it may shut one or two of its Hong Kong stores when their leases end this year.
And the news out of China doesn't inspire much confidence. French distiller Remy Cointreau SA reported first-quarter sales that missed analyst estimates as Chinese wholesalers continued to hold back on cognac orders. Prada SpA also reported first-quarter profit that trailed analyst estimates on slumping sales in China, while foreign carmakers including Audi have stepped up discounts to woo buyers.
So there's no relief in sight for Hong Kong. The tourism board forecasts overall visitor arrival growth to slow to 6.4 percent in 2015 from 12 percent last year, with mainland Chinese tourist arrivals expected to drop by half to 8 percent. Hong Kong's economy expanded 2.1 percent in the first quarter from a year earlier, weaker than a revised 2.4 percent expansion in October through December.
"We're just too exposed to China,'' said Silvia Liu, a Hong-Kong based economist at UBS AG. "Structurally, until the tourism sector consolidates and Hong Kong finds new growth engines, I don't see the way out yet."
Read original article