With kids taking so much tech on a trip, travel brands could take advantage
07/28/2015
|
8:58:04 AM
|
中文
Pretty shocking (perhaps) figures from a study of travellers which reveals that on average a family will pack more than £2,000 ($3,000) worth of technology on a trip.
Whilst nothing is going to (or should) stop consumers from taking their mobile devices, tablets, even laptops away with them, figures from the study show that gadget-laden kids are perhaps where there is some opportunity for travel providers.
A child's suitcase, for example, contains around £450 ($700) worth of technology, such as iPads, gaming devices and mobiles.
Even children below the age of six will be packing gadgets to the tune of more than £350 ($550).
Half of those under-6s will have a tablet device.
Furthermore, half (51%) of the parents interviewed in the study (via Protect Your Bubble) admit that rely on technology to distract their kids while travelling.
Four out of ten say they "wouldn't dream" of flying on a long haul route without techie toys for their kids to play with.
The final dispiriting stat comes by way of discovering that children, on average, will spend two hours per day playing with their various gadgets (with 13% heading north to four hours or more).
There is obviously a serious discussion to be had which argues that travel should be used to disconnect from the normal world of routine, devices and other electronics, especially for kids.
See the world, experience its charms, enjoy being outside and doing activities – rather than having heads buried in a tablet or other device.
But to some degree that's not a role the travel industry should take – in fact, forget the social concern for a moment (not that they really have much anyway), consider instead what can be done to harness this age of widespread digital addiction.
There has been a fair amount of discussion and some initiatives launched that tap into the so-called gamification of the travel industry, but these have mostly been aimed at adults through promotions, marketing and other such gimmicks.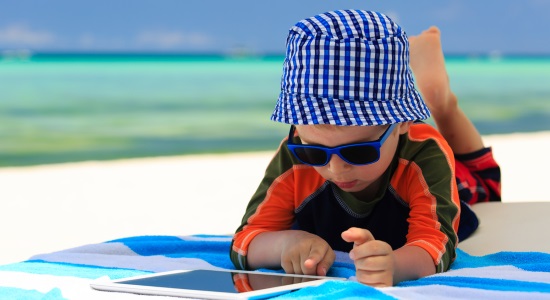 Perhaps travel brands therefore should be thinking about how they can somehow tap into that two-hour average window, when kids are wired back into their devices each day.
Wifi connection portals in hotels or accommodation complexes are an obvious route here.
Perhaps even the trade-off for getting free wifi is that a kid-friendly app is installed on a device.
Insist on having the homepage of wireless connection so that it contains some child-targeted functionality, perhaps even pushing heavily such activities that will appeal to them, either on-site or in the local area.
A bit more focus and creativity could see specific games being designed and then pushed to users within existing apps or wifi portals.
The issue with a lot of all this is that kids have their favourites, why would they suddenly want to start playing a hotel's own kid-friendly, probably second-rate game when all they want to do is run around in their own Sim City-esque Minecraft world.
There's a possible answer, right there…
Build into the existing Minecraft ecosystem, set kids challenges to rebuild the hotel, design a theme park, etc.
Then you might – just might – have a captive audience. The clever and subtle brand marketing comes later.
Read original article