Alibaba ups investment in cloud computing as rivalry with Amazon heats up
Alibaba's Aliyun cloud services arm will target clients beyond China as it tries to match or outperform Amazon within three years, Aliyun president Simon Hu said.
Alibaba Group Holding Ltd. will accelerate investment in data centers in the U.S., India and the Middle East to extend its challenge to Amazon.com Inc. in cloud computing.
The e-commerce giant's Aliyun cloud services arm will target clients beyond its home market of China as it tries to match or outperform Amazon within three years, Aliyun president Simon Hu said Wednesday in Beijing.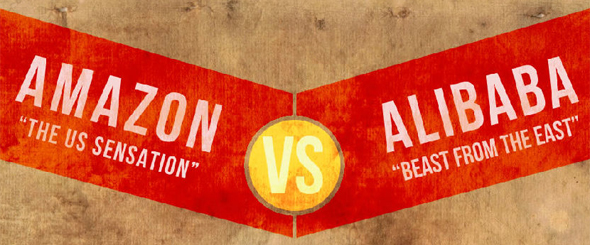 Alibaba is betting on Internet-based computing and big data to help boost growth in the next decade by providing processing and storage services for finance, governments and online gaming companies. Aliyun could account for more than $1 billion of Alibaba's revenue by 2018 and public cloud presents a $120 billion global market opportunity, according to research by SunTrust Robinson Humphrey Inc.
"The cloud business will be a very important sector for Alibaba," Hu said at the business unit's inaugural open day. "It took Amazon 10 years to get where it is today. It took us six years, and we hope to match or even surpass Amazon in three to four years."
Amazon this year began reporting results for its Amazon Web Services cloud-computing division, revealing a fast-growing and profitable enterprise that helps underpin the e-commerce company's valuation at 114 times estimated earnings. Revenue at the unit rose 49 percent to $1.57 billion in the March quarter.
However, many industry analysts foresee a margin-eroding price war as Microsoft Corp. and Google Inc. try to wrest market share away from Amazon.
Safety First
All global vendors are investing in the data centers that underpin their cloud computing businesses. Aliyun will open a data center in Shanghai in August, and establish a second in the U.S. "soon," Li Jin, the unit's senior product director, said at the conference.
Executives declined to say how much the company will set aside for data center investment.
Aliyun also issued a data protection pact at the conference on Wednesday, a commitment to safeguard the privacy of consumers and businesses. That guarantee may prove crucial as it competes for clients globally, given lingering concerns among many businesses about the security of data stored in remote locations.
Hu didn't say how Aliyun will deal with governments' legal requests for information, an issue many tech companies are now grappling with.
"We need to respect the laws. We do business within the scope of laws," Chief Technology Officer Zhang Wensong said.
Angry Birds
Hu is driving expansion overseas and has already convinced companies, including Angry Birds creator Rovio, to use Aliyun's cloud service.
It struck a deal to use data centers built by seven partner companies, including Intel Corp. and Equinix Inc., to push its own services, Hu told CNBC in June.
To broaden its influence in the Middle East and Africa, the unit set up a joint venture with Dubai-based Meraas Holding LLC in May. Alibaba will provide its technology, and the venture will provide services for transport, communication and urban infrastructure projects, Hu said in May.
The company said in June it would work with eight universities to set up cloud computing majors, intending to expand the program to more than 100 colleges across China in three years.
Read original article