CEO of French luxury group Kering returns artifacts to China as gift
French billionaire luxury tycoon Francois Pinault discreetly returned four solid gold heads of birds of prey made in the 7th century BC, valued at €1 million to China.
French billionaire luxury tycoon Francois Pinault discreetly returned four solid gold heads of birds of prey made in the 7th century BC, valued at €1 million (US$1.1 million), to China in April this year without asking for any compensation, reports the Guangzhou-based Times Weekly.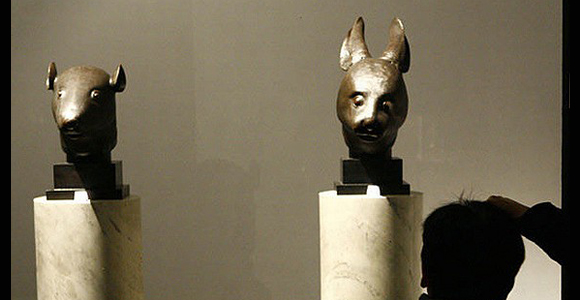 bronze rat and rabbit head artifacts donated to by Pinault family to China
Just two years ago, Pinault's son, Francois-Henri, also returned to China, free of charge, two bronze rat and rabbit heads looted from Beijing's Old Summer Palace by Anglo-French troops in 1860.
In the global market for art masterpieces, Francois Pinault is unquestionably at the front of the line. He has collected more than 2,000 pieces of artwork, including those by famous artists such as Pablo Picasso, Joan Miro, Piet Cornelies Mondrian and Andy Warhol. As the founder of luxury goods group PPR (now renamed Kering), Pinault owns the world's third largest luxury group, Gucci, auction giant Christie's, and the world's most expensive chateau, Latour. His personal wealth is estimated at US$11.5 billion.
Influenced by his good friend French president Jacques Chirac, who is a lover of Asian art, Pinault purchased four gold bird heads from the Zhou Dynasty (770-256 BC) for €1 million in 2000, and then donated them to Paris's Guimet Museum of Asian Arts as a favor to Chirac. Each piece is 46mm high and weighs 880 grams.
In 2006, a French weekly reported that the four pieces had been whisked out of China during a wave of thefts in the 1990s from the tomb of a noble of the Zhou Dynasty in Gansu province. The Guimet Museum of Asian Arts denied the report and termed it "ridiculous."
British daily newspaper, the Telegraph, recently reported that China started trying to retrieve the four gold antiques from France through a French expert 10 years ago, but in vain. China continued to demand their return through diplomatic channels.
In 2014, China and France agreed to make a thorough examination of all the artifacts that China had been seeking to retrieve. In October, a committee in charge of the examination made an official suggestion to return the four solid gold heads to China, on grounds that the gold content, processing technology and coatings of the four are totally the same as those of an existing piece of the kind kept in Beijing.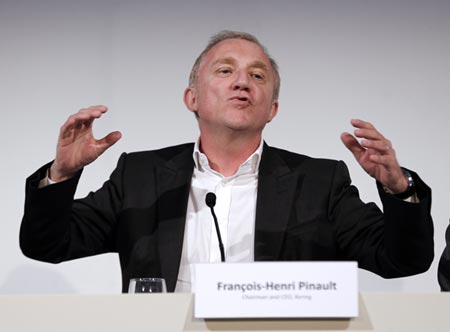 Chairman and CEO of Kering, Francois-Henri Pinault
In response to the suggestion, Pinault decided to return the four works to China in 2014, the 50th anniversary of diplomatic ties between France and China, to save face for his country and sustain good ties between the two countries. The return proved a diplomatic headache, as donations to French museum are irrevocable. To counter, the French culture ministry retroactively annulled the donations and returned them to Pinault, who, in turn, handed over the four birds of prey heads to the Chinese embassy in Paris in April this year.
The earlier compensation-free return of bronze rat and rabbit heads to China helped the Pinault family complete a perfect commercial PR performance, paving the way for the foray of a string of luxury goods brands under the Kering Group into the China market. In April 2013, Christie's became the first international arts auction company to win an operating license from China, enabling it to hold a grand auction party in Shanghai on September 26 that year.
Read original article