Sunshine Insurance celebrates grand opening of its new prize: Baccarat Hotel NYC
Starwood Capital Group CEO Barry Sternlicht and Chairman of Sunshine Insurance Group Zhang Weigong celebrated the opening of Baccarat Hotel NYC.
On July 15 Barry Sternlicht, Chairman and CEO of Starwood Capital Group, and Zhang Weigong, Chairman & Founder of Sunshine Insurance Group celebrated the Grand Opening of Baccarat Hotel & Residences New York. Members of the Starwood Capital, SH Group and Sunshine Insurance teams, along with several notables including Martha Stewart, were on hand for a ribbon cutting and exchange of gifts between Mr. Sternlicht and Chairman Weigong.
Starwood Capital Group, announced on February 9 that it agreed to sell the flagship Baccarat Hotel New York at 20 West 53rd Street in Manhattan to an affiliate of Sunshine Insurance Group for more than $230 million.
According to sources familiar with the transaction, Sunshine is paying the highest price ever for a New York hotel on a per room basis with the hotel's 110 rooms going for more than $2 million per room. The hotel occupies the first 12 floors of the 50-story Baccarat Hotel and Residences project scheduled to open the first week of March.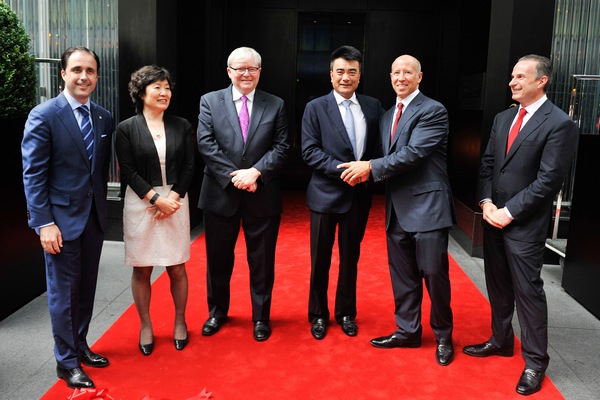 Andrew Turner (Baccarat Hotel & Residences New York General Manager), Zhang Qiyue (General Consulate P.R.C Consul General), Kevin Rudd (Former Australian Prime Minister), Zhang Weigong (Chairman & Founder of Sunshine Insurance Group), Scott Rohm (SH Group President)
The New York property, located across the street from the Museum of Modern Art, is the global flagship hotel for the 250-year-old Baccarat brand and marks the entry of this world famous brand into the luxury hospitality arena. The project is located just off historic Fifth Avenue in New York City and rises 605 feet over 50 stories.
"We are very pleased to enter into this transaction with Sunshine Insurance Group, which marks a significant milestone for Baccarat S.A. and for the future growth of the Baccarat hotel brand. For 250 years, for kings, queens, tsars and sheiks, Baccarat has represented absolute perfection in crystal. Our aspiration is that Baccarat Hotels will present perfection in service to our guests. We look forward to presenting this world-class experience to our guests at this landmark hotel, which will surely take its place as one of the most famous hotels in the world in the number one travel destination in our country," Barry Sternlicht, Chairman and CEO of Starwood Capital Group said after the transaction.
"We are extremely pleased to have found such a great partner for Starwood and Baccarat in the Sunshine Insurance Group. Sunshine shares our long term strategic vision for Baccarat Hotels and will be an excellent partner for the growth of our brands particularly in the fast growing travel markets of Asia," continued Mr. Sternlicht. "Baccarat Hotels are also under construction in Dubai and Rabat, Morocco, and we are working on projects in several European capitals and resorts."
Following the transaction, the Baccarat Hotel New York will be managed under a long-term contract by Starwood Capital's SH Group.
Sunshine Insurance Group is a comprehensive insurance financial group based in China, ranking among the country's largest and most successful insurance and investment firms. It succeeded in becoming one of China's S&P 500 companies in its first five years of operation and has also become the seventh-largest Chinese insurance group.