Chinese OTAs battle for millions of outbound tourists
Analysis on how China's OTAs are tapping onto the larget outbound tourism market in the worls by David Juman of Phocuswright.
China, the world's second largest travel market and fastest-growing international outbound market, is home to a quarter of a billion travelers eager to venture beyond the country's borders.
International outbound travelers are surging past the 100 million mark – and two thirds of travelers who haven't traveled outside China recently plan on crossing it off their wish list within the next two years.
These people earn more, spend more and travel more than the average traveler, and they are two to three times more likely than US travelers to use mobile and social media during their travel experience.
Chinese travelers spend US$140 billion in the global markets annually.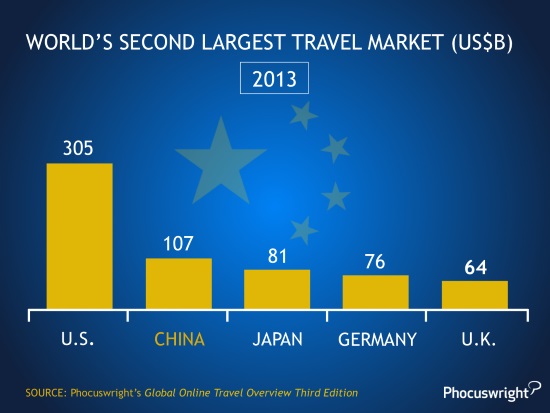 It's no wonder, then, that global travel companies – international hotel chains in particular – are rolling out the red carpet to attract these enthusiastic, big spenders.
Large hotel chains – both in and outside of China – are scrambling to lure China's burgeoning class of business and leisure travelers.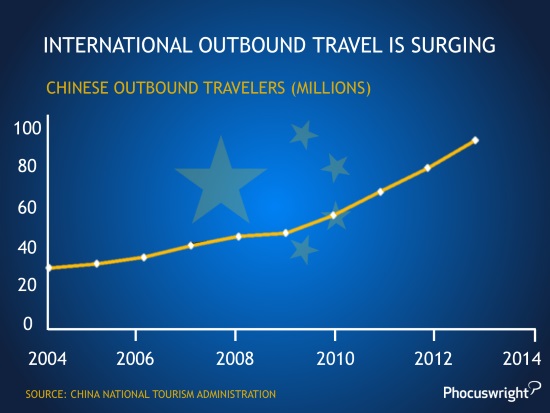 OTAs go mobile to woo travelers
With continued consumer adoption of smartphones and tablets, mobile will be the fastest-growing point of sale for online travel agencies (OTAs) in the region.
Aggregate APAC OTA mobile gross bookings (excluding North East and South East Asia) will more than triple by 2016 to $11.1 billion, accounting for 29% of total OTA gross bookings.
Driven by consumers' shifting preference for searching and shopping via handhelds, OTAs targeting the Chinese market are overhauling their mobile design and user experience, and accepting transactions via mobile wallets to minimize payment gateway failures.
In addition, almost all are adopting location-based functionality to drive last-minute hotel sales. OTAs have the advantage on the mobile front. With a robust suite of products and limited competition from suppliers, they trump suppliers in underpenetrated and fast growing mobile travel markets.
Online intermediaries are investing in mobile-based experiences, rather than merely replicating their online websites, as mobile emerges as a prominent platform for more and more OTAs.
Mobile bookings already constitute nearly a quarter of Chinese OTA bookings.
Innovation abounds
With China's overall and online travel markets poised for massive growth, travel companies have an exceptional opportunity to attract travelers to new brands and platforms.
Ctrip is China's first mover and the most familiar name in its travel industry, but the OTA will need to extend its influence in order to keep up with the country's rapidly changing (and expanding) travel landscape.
Online shopping powerhouses with massive consumer reach, such as Taobao, Tmall and JD.com, are increasing their focus on travel.
Mobile-first OTA players such as Huoli Tianhui – which offers apps for rail, air and hotel bookings – are attracting the attention of on-the-go travel shoppers.
And outbound- and package-focused sites that were niche players just a few years ago have raised their profiles as well.
Phocuswright's upcoming Special Project, China Unbounded: The Rapid Rise of China's Outbound Millions, is designed to help travel companies target and connect with China's tech-savvy travelers, and capture a share of this important and dynamic market.
Project sponsors will tap into essential insights about these unique travelers, including their destination selection, planning, purchasing, experiencing and sharing.
Learn where these travelers want to go, how they feel about tour groups, how they shop and book, and whether they gravitate to Western or Chinese brands.
Unlock the attitudes and behavior of China's outbound millions, and position your company to reap the rewards.
Read original article