Airport beacons showcase potential for open access to locations
06/16/2015
|
6:30:35 PM
|
中文
We flew into San Francisco International Airport for our third instance of travel hacking this past weekend, arriving to a sold out crowd of eager travelers ready to craft ideas into products.
There was a near-record 25 projects submitted at the Terminal 2 workspace, each following one of the four overarching themes.
The most popular was clearly the "SFO mobile concierge," due to the generous offer of access to the T2 beacon arrays by the airport itself.
Here are some highlights from those projects!
1) Inspiration/discovery/memories
AdviseMe is a local expert mobile app for travelers seeking advice from in-the-know locals with specific specialities.
The team of high school students had a lot of enthusiasm for the industry, especially given the complexities of defining what a local expert is and how they would be paid. The business model could be pay-per-message, hour or a full-on monthly subscription.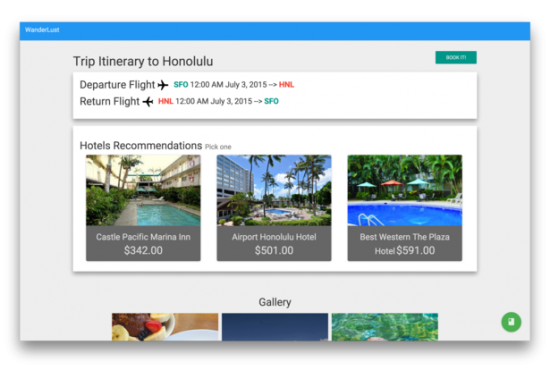 WanderLust is a discovery application that gives user simple parameters such as budget, days and a theme.
After selecting how much money is available in the kitty, the algorithm will offer flight and hotel suggestions for a trip that meets those specifications. The simple tool used both Amadeus and Sabre to find places to go makes for a quick and fun vacation selector.
A team of first time hackers built Weekender, an interface that inspires users to travel at the last minute via photos.
Users must select a departure airport, a duration and a theme, and then the team's algorithm returns departing flights within two to 48 hours.
The top photos from Instagram will also appear to trigger a bit of excitement. The user can book through to Google Flights once they select the desired destination. Sabre winner! Amadeus winner!
Project Waldo's Vic and Magpie weren't able to code up their ideas, but each had thoughtful approaches to a new angle for group travel (using surveys of each traveler) and place reviews (using emoticons as indicators of experience rather than stars).
Read original article