Travelers navigate to brand sites, not OTAs, to book
06/04/2015
|
7:14:24 AM
|
中文
Travel bookers prefer airline and hotel websites and apps to online travel agencies.
Airlines and hotels have an edge over online travel agencies (OTAs) when it comes to digital booking, according to December 2014 research by Criteo and PhoCusWright.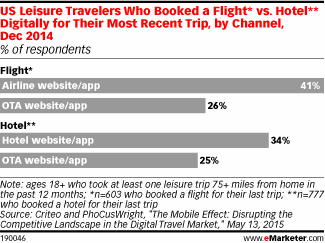 The study looked at US adults who had taken at least one leisure trip 75-plus miles from home in the past 12 months. Among respondents, 41% had booked digitally using an airline website or app, vs. 26% who had turned to an OTA. The story was similar for online hotel bookings. Over one-third reported using a hotel website or app to make accommodations, compared with a quarter who booked through an OTA.
Other responses indicated that leisure travelers were more engaged with travel brands than OTAs. When asked if they subscribed to emails or e-newsletters from travel companies, 34% said they subscribed to those from hotels, and 32% were signed up to receive such communications from airlines. Meanwhile, 26% subscribed to OTA emails or e-newsletters.
Research released by UBS in March 2015 indicated that travel agencies were slowly losing share of total digital travel sales in the US, falling from 33.7% to 33.2% between 2013 and 2015. By 2019, online agencies were expected to account for less than 30% of the total.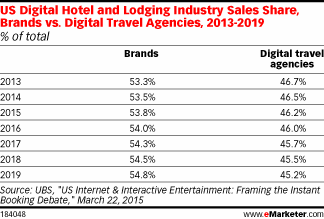 UBS also looked specifically at the hotel industry and found similar results. The firm reported that brands had increased their share of US digital hotel and lodging industry sales from 53.3% in 2013 to 53.8% in 2015 and expected this to hit 54.8% in 2019. Meanwhile, digital travel agencies were forecast to see their proportion of sales drop from 46.2% in 2015 to 45.2% in 2019.
eMarketer estimates that there will be 110.7 million US digital travel bookers this year, representing 52.5% of internet users. Such activity will push digital travel sales up to $167.99 billion.
Read original article