Suddenly, flight reviews could be the next big thing
05/19/2015
|
7:06:44 PM
|
中文
Expedia has been quietly testing out flight reviews for the past 18 months – with results so far illustrating that they could become as important as hotel reviews.
It is not an entirely new concept, of course (Airlinewatchdog, owned by TripAdvisor, has been in the space for years), but Expedia has discovered that not only is there an enthusiasm by consumers to share their feedback from a flight, but the presence of reviews in results has a clear impact on conversions.
Speaking at the Phocuswright Europe event in Dublin last week, Expedia's senior vice president and head of retail, Gary Morrison, says the company has already reached three million flight reviews since the test began in early-2014, with it expected to reach over five million by the end of 2015.
Consumers in the US are invited to leave a review of their flight via a post-trip email, similar to those issued for hotel reviews.
Morrison says the idea is to give as much information as possible to help customers make a better choices for a flight.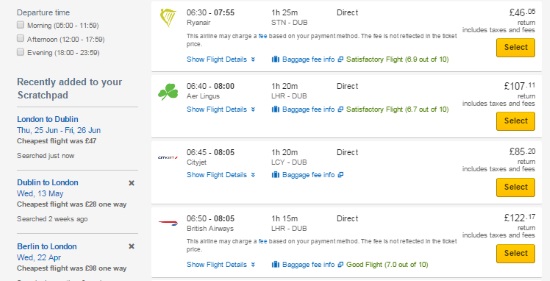 Flight reviews are becoming an increasingly more important part of the purchase decision, Morrison says, as travellers look to learn not only the difference in products and facilities on-board, but the quality of the overall experience.
The collection and appearance of reviews comes as Expedia and Amadeus implement their "branded fares" initiative, with the pair committed to creating a "standardised solution" for some airlines so they can offer branded fares to customers.
Branded fares have traditionally incorporated types of tickets, such as seat-only options or the ability to be flexible on refunds, but Expedia says the concept is evolving to the extent that airlines are wanting to push branded fares which also include their ancillary services, such as checked bags, in-flight services and premium seating.
The reviews will obviously play a complementary role in how these fares are promoted in search results, with a score given out of then for a particular service.

Morrison says some initial testing has shown that those who have interacted with the information on the page are more than twice as likely to make a purchase of the ticket.
Separately, Amadeus says it is piloting reviews with a number of unnamed airlines.
The company has had hotel reviews for a number of years via its Trusted Reviews service and is also working in partnership with Olset on using data from reviews to offer travelers more personalised results.
Gianni Pisanello, Amadeus strategic marketing director, airline distribution, says airline reviews, and even airports, are a natural extension for travellers, travel managers and corporates.
Benefits include automating the process for airlines, which would traditionally rely on questionnaires and focus groups, and providing them with more immediate information on passenger likes and dislikes.
The information could then be used to price products and services and learn what is perceived of value and what is not.
From the traveller and travel manager point of view, Pisanello says reviews provide genuine feedback from peers, help drive adoption of booking tools and corporate policy and help travellers make more informed decisions.
Taking this a step further, it's not hard to imagine Amadeus might build some of the review information into its Total Travel Record, a project to extend the PNR to include much more information on traveller preferences and therefore enable better customer management.
Olset says it is also working on reviews capability for the airline sector but is not helping Amadeus with review collection at this time.
Both Amadeus and Olset believe the industry is only at the tip of the iceberg when it comes to the value of reviews and using them to make intelligent recommendations and understand travellers better.
Read original article