Travefy, a group travel planner and TMC tool, lands $1.8M in funding
04/28/2015
|
11:09:22 AM
|
中文
Travefy, a website that helps groups plan trips, has raised $1.8 million in equity investment in its Series A round of funding.
The money is in addition to the startup's $320,000 seed round in autumn 2013.
Travefy, based in Lincoln, Nebraska, lets individuals work together on building itineraries and collecting shared expenses so that no one traveler gets stiffed.
Until recently, group-travel planning was typically the exclusive domain of the pencil-and-paper, spreadsheet, and e-mail crowd.
Travefy has a desktop-and-mobile site that is free to use, though it collects a fee for having all expenses settled through it via credit card.
Travefy has a white-label professional version for travel management companies (TMCs), online travel agencies, and other travel companies.
Significantly, given its TMC-friendly white-label product, the largest contributor to the financing round was Travel and Transport, the fifth largest TMC in the U.S, which specializes in corporate travel management, vacation travel, and group and meeting services. It is owned by its 1,300 employees.
Also participating in this investment round are the Nebraska Global Investment Company, Nelnet, Columbia University, Linseed Capital, the Invest Nebraska Corporation, and a variety of angel investors.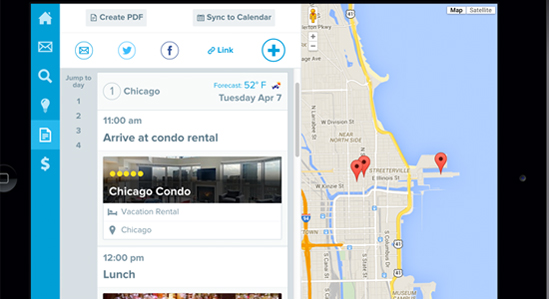 The idea for the startup was hatched in 2012 by David Chait and Chris Davis.
Chait, the CEO who just turned 30, says the company will use the funds to accelerate expansion and innovation. He told Tnooz:
"We now have six full-time employees (4 on our product team and 2 on our sales and marketing team).
We are currently hiring a number of positions including a variety of developer roles as well as positions in business development and marketing."
He added that there's no change to the structure of the three-person board, which remains the co-founders and Steve Kiene, the managing principal of Nebraska Global VC.
Travefy has taken a funding lead against similar sites such TripOrama, Tripobox, Tripshare, Flights with Friends, and Gatherball, among others.
Travefy is not to be confused with tools for booking large numbers of rooms at hotels, like Groupize, which helps planners book hotel rooms automatically via its request-for-proposal (RFP) system for groups of less than 25 rooms.
Read original article