Airbnb jumps ahead of hotel brands with over 1,000 listings in Cuba
04/03/2015
|
11:29:25 AM
|
中文
Airbnb is the first American accommodation brand to make serious inroads into Cuba, offering over 1,000 homes for rent in Cuba starting today.
This sort of speed and scope is one of Airbnb's primary strengths, as it requires no capital expenditures or extended timelines to expand its footprint. While hotel brands must sit and wait to see how the warming of relations with the Communist nation shake out, Airbnb can plunge in.
The shared accommodation startup's business model is in many ways a descendant of Cuban hospitality, as the country's hospitality industry has long offered homestays as a core part of the travel landscape. Many families have opened up their homes to travelers as a way to both make extra cash and to simply survive, making it far easier and more acceptable to offer a room on Airbnb than in many places north of the island nation.
As the Airbnb announcement highlights:
Hospitality isn't a commodity in Havana—it's a way of life. Cubans have been welcoming visitors into their homes for decades.Casas particulares—a network of private homestays—have been a popular choice for visitors, as well as an important source of income for thousands of Cuban families.
There are already offer 1,000 listings on Airbnb, with the majority (over 600) being in the island's biggest urban center, Havana.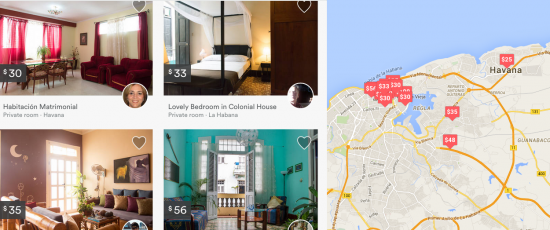 Airbnb created this video in Cuba to share what's going on there, further fueling the already fervent buzz about travel to the Carribean nation.
The potential is enormous and the travel interest is only growing. Cuba is set to be one of the most talked about and most visited destinations of the decade — most especially as many travelers from non-American nations push Cuba up the list to experience it "before the Americans arrive."
Read original article