Are OTAs doing enough to capture consumer attention early in the purchase funnel?
03/24/2015
|
9:37:48 AM
|
中文
OTAs must do more to capture consumer attention earlier in the travel purchase decision funnel, says new research by Millward Brown.
OTAs have been buying share through advertising since the dawn of the business — one of the surest ways to grab a consumer's booking was to be present when that consumer was making a purchase decision in travel, thus pushing them to book away from the supplier and logging a commission for the OTA. However, the focus has been more on capturing that last click — the one that leads to the purchase.
Since the focus is on that last click, there is a direct connection between advertising spend and revenue — the money must be invested in ads to secure the bookings. The research found this correlation to mean that supplier direct bookings soared in the fourth quarter of 2014, jumping from 61% in the previous quarter to 69%.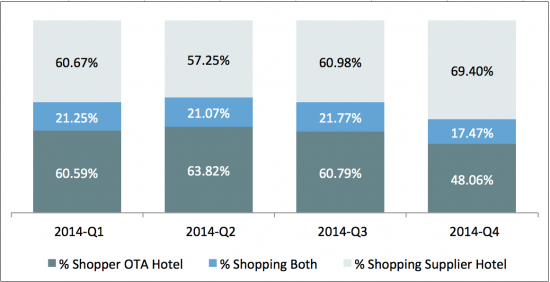 The share of those travelers looking at both OTAs and suppliers also dropped significantly, from 22% in the third quarter to 17%. This led to a drop of 13% in OTA shoppers overall.