Car Inc shows strong profits and IT vision in 2014 results
CAR Inc. stressed its strong growth, a HKSE listing and tech improvements and collaborations in its audited consolidated annual results for 2014,
The Board of Directors of CAR Inc.is pleased to announce the audited consolidated annual results of the Company and its subsidiaries for the year ended 31 December, 2014.
BUSINESS OVERVIEW
2014 was a successful year with strong profitability and solid financial positions.We continued to be the clear leader in China's car rental market by leveraging on our superior customer experience, cost leadership, technology innovation and enhanced funding capability.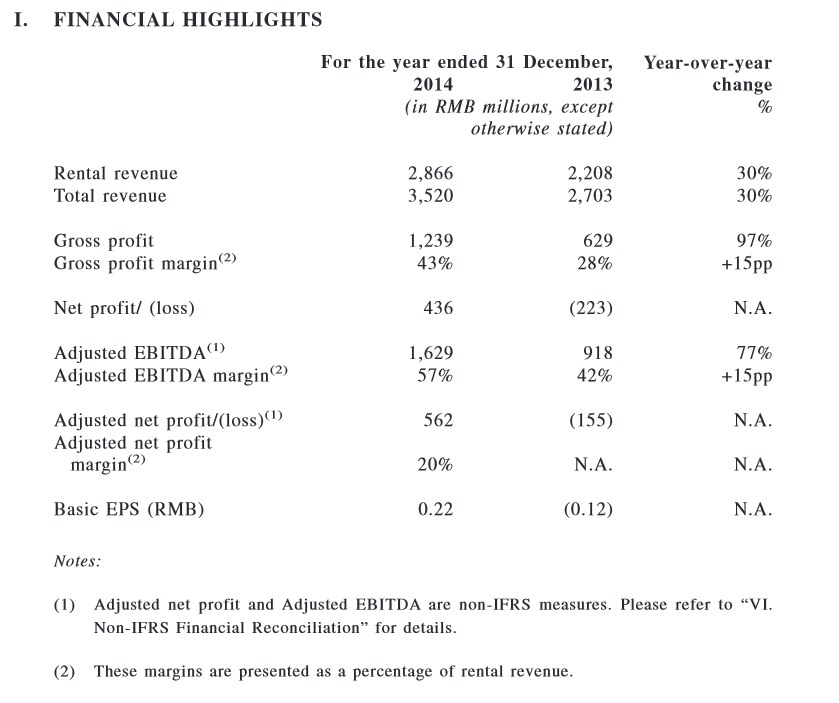 As a technology driven company, we continuously improve operational efficiency and enhance customer experience through technology innovations. We put a significant focus on continuously enhancing our mobile technology.
Reservations via mobile application as a percentage of our total reservations increased from 6% for the three months ended 31 March 2013 to 46% for the three months ended 31 December 2014. In December 2014, the percentage of reservations from our mobile application was 51%. As of 31 December 2014, our mobile application had approximately 7,000,000 installations.

We were successfully listed on the Main Board of The Stock Exchange of Hong Kong Limited on 19 September 2014 with approximately 202 times Hong Kong public offering subscription, marking a milestone for us in accessing the public capital market, increasing our public awareness and improving our corporate governance.
STRATEGIC HIGHLIGHTS
Over the past year, we continued to expand our rental fleet and increased our revenues while improving our profitability and further solidifying our market leadership position in China's car rental market.
Our short-term rental business continues to be our strategic and operational focus. We intend to continue to grow our rental fleet, increase our fleet utilisation rate, expand our network coverage, enhance customer experience and strengthen our brand.

Further, we intend to continue product innovation and closely monitor developments in customer needs, consumer trends using big data analysis, technology, and regulatory landscape in search for new growth opportunities. We believe we are well positioned to expand into other auto related business areas, supported by our clear leadership position in car rental
industry, cross business synergies, strong execution capability and funding advantage.

As China global auto and internet industries evolve, more innovative solutions and technologies will emerge, such as Internet of Cars and Smart Vehicles. We intend to continue product innovation and explore strategic expansion in the broader auto ecosystem.