China Hotel Market Recap
01/20/2015
|
8:44:48 AM
|
中文
Following the introduction of Chinese government restrictions in 2014, Shanghai proved to be one of the few markets that showed a positive increases.
As of November 2014, there are 3,317 hotels in China that participate with STR Global; comprising of Luxury and Upper Upscale (17.1%), Upscale and Upper Midscale (23.1%), Midscale and Economy (59.8%) class segments.
In this newsletter we have reported on the latest available data from the China hotel market.

China Hotel Market Supply and Demand
Looking at November 2014 year to date data; the demand increase has already exceeded room supply, with a year-over-year increase of +5.0% in room supply and a +7.1% increase in demand.
Luxury class showed the most significant growth in demand (+12.3%), which again, exceeds the supply growth of +3.0%. Upper Upscale was the segment to come second in terms of demand percentage change, showing an +11.5% increase, compared to the same period in the previous year, while room supply rose by only +6.6%. Upper Midscale showed the least significant percentage change, with supply and demand both increasing by less than +4.0%.
The supply and demand is relatively equal for Midscale & Economy classes combined, of which experienced an increase of +5.1% and +5.8% respectively.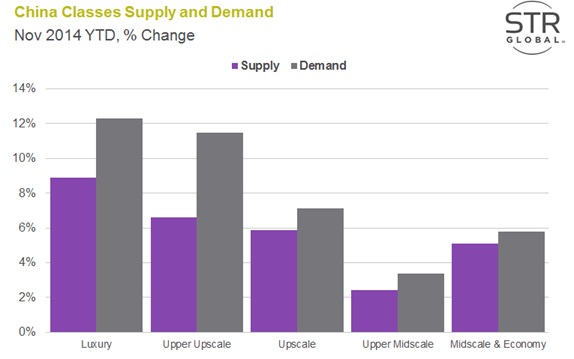 China's Major Cities Supply and Demand
Focusing on the major cities in China, each hotel market showed a steady increase in supply with a few cities experiencing a decline in room demand. Chengdu, Wuhan and Zhengzhou reported strong increases in room supply, with growths of +12.87%, +9.59% and +8.42% respectively.
The supply in first-tier cities (Beijing, Shanghai, Guangzhou and Shenzhen) maintained a steady growth of under +4.0%. Sanya, Chongqing and Shenzhen showed strong demand increases of +18.3%, +18.1% and +17.1% respectively; Tianjin and Zhengzhou were the only two cities to show a decline in this index, both sharing a -6% decrease during this period.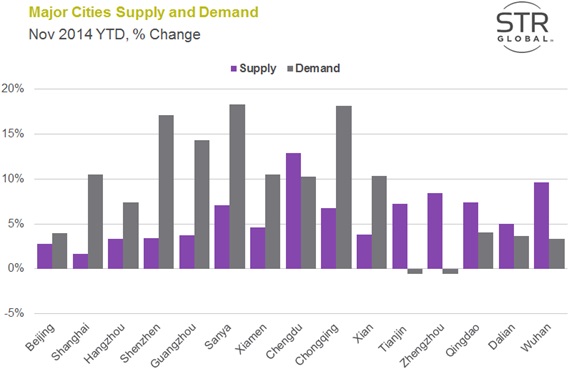 China's Major Cities Performance
Among the 14 major cities we are currently tracking, the majority of the hotel markets across mainland China achieved growth in occupancy and a decline in ADR on a year-over-year basis during this period.
Shenzhen, Chongqing, Sanya and Guangzhou reported double-digit occupancy growths of +13.22%, +10.60%, +10.46% and +10.18% respectively. Beijing's occupancy is starting to move towards stability, slightly increasing by 1.18%.
On the other hand, Zhengzhou, Tianjin and Wuhan were the top three cities that showed occupancy declines, showing -8.31%, -7.32% and -5.72% decrease compared to the same period a year earlier.
In terms of average daily rate (ADR), Tianjin and Shanghai were the only two cities that performed positively. Tianjin reported an increase in ADR by +3.30%, followed by Shanghai, which rose by +1.0%. Shenzhen experienced the biggest drop in ADR (-14.2%) but still maintained a high occupancy rate; Dalian and Xiamen shared similar decreases in this period, with a drop of -12.0% and -11.5% in ADR respectively.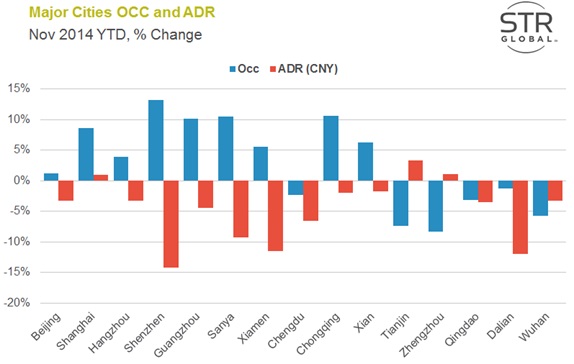 Shanghai Hotel Market Supply and Demand
As the economic and financial hub of China, Shanghai serves as a key driver for Yangtze River Delta region's development and, as a market, will need to be watched.
From a supply and demand perspective, Shanghai achieved a growth of almost +5.0% in room supply which is relatively low compared to the strong increase in demand across all classes.
Luxury class has seen the largest increase in room demand, showing a +20% year-over-year growth; Upscale class ranked second with a +10% increase in this metric. Supply slowed by -0.1% in Upper Midscale, which also experienced the smallest year-over-year increase in demand (+6.03%) in this region.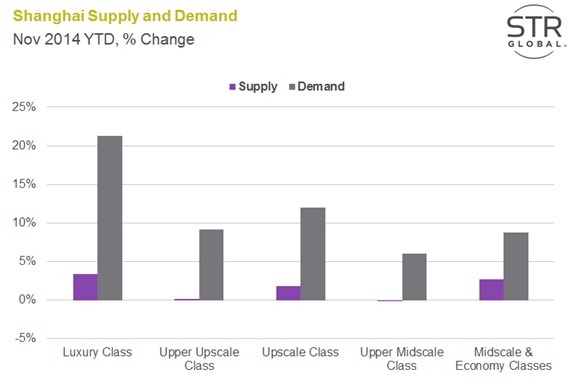 Shanghai Hotel Performance by Class
According to the latest data for Shanghai's hotel market, all classes displayed different characteristics during this period. In terms of occupancy, all the segments showed positive growth ranging from +5.89% to +17.26%.
The Luxury class in Shanghai experienced the strongest increase in occupancy (+17.26%), reaching 61.78% but also displayed the most significant decline in ADR. Upscale hotels showed an increase of +10.00% in occupancy, reaching 65.36% in this period. Upper Upscale came third in terms of occupancy growth, showing an +8.94% increase compared to the same months period in 2013; Upper Midscale and Midscale & Economy displayed steady growths of +6.23% and +5.89% respectively.
Shanghai's Luxury classes reported a -3.01% drop in ADR to CNY1401.56, whilst Upper Midscale class dropped by -0.84% (CNY436.26). The steady performers included the Upscale and Midscale & Economy classes, reporting an increase of +0.08% and +0.56% respectively; the former increased to CNY661.43, and the latter reduced to CNY244.54.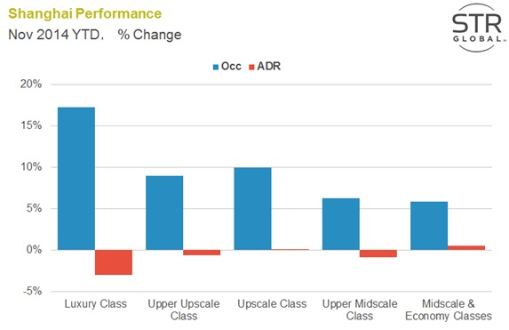 Market Outlook
Following the introduction of the Chinese government restriction in 2014, Shanghai proved to be one of the few markets that showed a positive increase in occupancy and average daily rate, due to strong demand and balanced supply rates.
November 2014 YTD data for China as a region, as well as a focus on Shanghai, has been analysed in this December review, providing reference for further discussion. Additionally, future trends will be more in depth when we take weekend, working days and specific days of the week into consideration.