China hotel performance STR survey 2014
3211 hotels from each segment in China are participating with STR Global for this report on the China Hotel Market
As of September 2014, 3211 hotels in China are participating with STR Global; including Luxury and Upper Upscale (16.2%), Upscale and Upper Midscale (25.4%), Midscale and Economy segments (58.3%). In this edition we have reported on the latest data from the China Hotel Market.
Hotel Performance by Class
The market saw faster demand growth than supply growth across all the hotel classes, which led to positive year-on year occupancy growth ranging from 1.54% to 6.45%. The Upper Upscale (+6.45%) and Luxury class (+3.07%) experienced the strongest increase in occupancy August 2014 YTD within this region, while Upscale (+1.54%), Upper Midscale (+1.61%) and Midscale & Economy segments (+1.75%) maintained similar levels in this measure.
Each class segment experienced mixed ADR results. The Upscale class (-3.32%) reported the biggest drop in ADR, followed by the Luxury class (-2.81%) and the Upper Upscale class (-2.71%). The steady performers included the Upper Midscale and Midscale & Economy class; the former dropped by -1.41% and the latter reduced by only -0.51%.
China Classes Occupancy and ADR
August 2014 YTD, % Change
In terms of RevPAR, the Upscale class is the only sector that showed a year-on-year drop in this period while all the other classes saw increases. Upper Upscale experienced the strongest increase in RevPAR (+3.7%) reaching CNY511.30. Midscale & Economy (+1.3%) came second in terms of RevPAR growth and reached CNY160.40, while the Upscale segment (-2.0%) declined to CNY360.29.
China Classes RevPAR
August 2014 YTD, % Change
Pipeline
China currently has 1,265,654 hotel rooms and has experienced an increase in supply of 24.79% to 313,821 hotel rooms throughout September 2014. The majority of existing supply was comprised of Independent hotels, followed by Upscale chains and Upper Upscale Chains. In terms of pipeline, the Upper Upscale class is expected to grow the fastest (+85.1%), followed by Luxury (+68.3%) and Upscale Chains(+63.4%).
China Chain Scales Pipeline
Sep. 2014 YTD, by room count ('000)
Beijing Actual Performance
Beijing, the political and cultural centre of China, is not only an important tourist destination, but also a significant business conference market. Supply and Demand rates have decelerated from 2012 to 2014, with demand gradually climbing back earlier this year. Supply showed a steady increase of 5.0% but demand started to fall at the beginning of 2012; presenting a temporary negative value in late 2013, followed by an increase throughout 2014. RevPAR dropped as the result of declining demand levels. After 2013, the index continued a negative decline. In line with an increase in demand during 2014, the decline of revenue per available room was significantly reduced.
Beijing Actual Performance
12 month moving average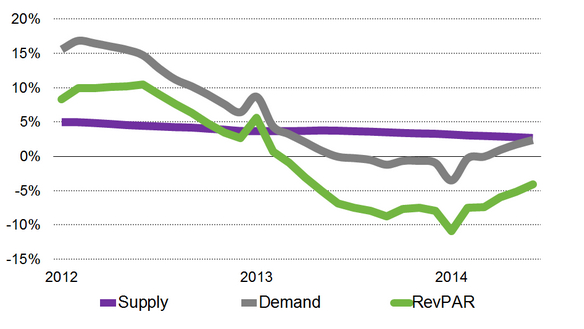 Beijing Hotel Performance by Class
According to the latest data from Beijing's hotel market, all classes presented different characteristics during this period. The Luxury class in Beijing experienced the strongest increase in occupancy (+10.83%) reaching 62%, but also suffered the most significant decline in ADR. Upper Upscale hotels showed an increase of +6.13% in occupancy and reached 66% in this period. Occupancy levels in the Upscale segment remained flat last year whereas Upper Midscale and Midscale & Economy shared the same decrease of -1.7%, achieving 70% and 79% respectively.

The Luxury class reported a decrease in ADR by -7.25% to CNY1224.13 and the Upscale class dropped by -6.89% (CNY776.32). The steady performers included the Upper Midscale and Midscale & Economy classes, both showing a decline of -1.0%; the former dropped to CNY463.09 and the latter reduced to CNY246.36.
China Hotel Market Recap
August 2014 YTD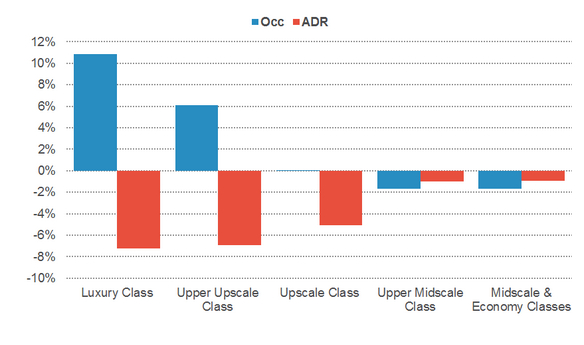 Market Outlook
In general, the slight growth of RevPAR is dependant on the increase in occupancy, while ADR continues to decline as a result of the campaigns launched by the Chinese central government to end extravagant spending by officials.

The hotel performance, particularly in Beijing, becomes a phenomenon calling for attention. Although several markets showed remarkable performance, the future trend remains to be seen when we take pipeline into consideration.
The table below covers all the participating hotels in China, by September 2014:

Market


Total Number

Participating Hotels by Class

Luxury

Upper Upscale

Upscale

Upper Midscale

Midscale

Economy

China

3211

231

292

491

324

245

1628

Beijing

393

30

34

63

48

23

195
Source: STR Global