Home
>
Destinations
>
Top 20 destinations for outbound mainland chinese travellers
Top 20 destinations for outbound mainland chinese travellers
TripAdvisor has released a list of the top 20 most popular destinations for outbound mainland Chinese travellers.
TripAdvisor has released a list of the top 20 most popular destinations for outbound mainland Chinese travellers. While short haul destinations within the Asia Pacific region continue to draw tens of millions of mainland tourists a year, increasingly discerning Chinese travellers are looking at far-flung holiday destinations in North America, Europe and Australia, driven by their desire to broaden their worldview.
Based on total page views recorded between September 2013 to September 2014 on daodao.com, TripAdvisor's official website in China, the top 20 most popular destinations for outbound Chinese travellers are as follows:
1. Hong Kong
2. United States
3. Thailand
4. Taiwan
5. Japan
6. South Korea
7. France
8. Italy
9. Indonesia
10. Malaysia
11. United Kingdom
12. Spain
13. Macau
14. Singapore
15. United Arab Emirates
16. Germany
17. Australia
18. Canada
19. The Netherlands
20. Vietnam
According to a recent TripAdvisor TripBarometer study on the psychology of travel, 'enhancing perspective' is the primary motivation for holiday choices for 65 percent of Chinese travellers.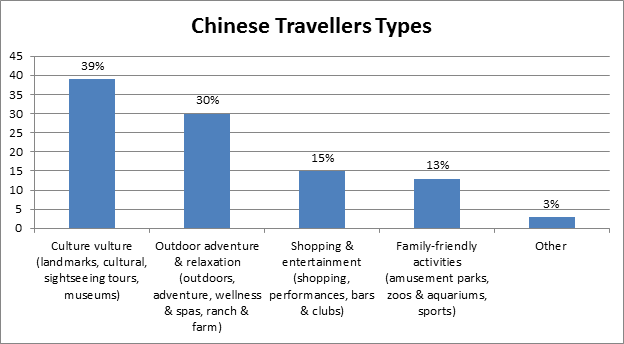 [Chinese travellers]
According to a joint study by TripAdvisor and Boston Consulting Group Report titled, "Winning the Next Billion Asian Travellers – Starting with China," 1 by 2030, more than 50 percent of the growth in global traffic will come from Asia Pacific, and travellers from China will account for around 40 percent of Asian outbound travellers. Chinese urban travellers will take 1.7 billion domestic and outbound trips annually, up from 500 million today, spending $1.8 trillion on travel and tourism—nearly seven times their current expenditures, by 2030. The economic opportunity for the travel industry is significant with spend from Chinese outbound tourism increasing by 15 precent year-on-year between now and 2030.
Lily Cheng, President, APAC, TripAdvisor said, "China's fast-growing outbound travel market represents vast, untapped opportunities for global tourism service providers. The market is not only growing rapidly but consumer behaviour is also quickly evolving with mobile technology and the desire for independent travel. Businesses must develop a keen understanding of Chinese travellers as customers in order to win their patronage and loyalty."
In China, TripAdvisor operates a highly customised version of its site, designed specifically for Chinese travellers under daodao.com. From September 2013 to September 2014, millions of unique visitors from China came to daodao.com to research outbound destinations, representing a year-on-year increase of 16 percent.
Read original article