Rezdy confirms offline dominates tours and activities bookings
Australian tours and activities platform Rezdy has released some stats from its clients which show that offline bookings are still way ahead of online, with mobile's share of these online bookings increasing very slowly indeed.
CEO Simon Lenoir presented the figures at Travel Tech 2014 in Sydney last week and shared the findings with Tnooz.
Rezdy broke down revenues and found that when monthly revenues peaked at A$12 million this summer A$7.5m was "manually entered offline", A$4 million came from supplier web sites and mobile with A$0.5m from agents.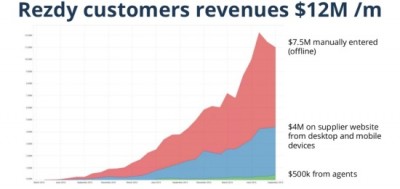 Read original article