China is THE most visited country in the developing world, by far!
In 2012, China was the top tourist destination among developing countries with more than 57 million foreigners entering the country over the year, according to The World Bank blog.
According to the same report:
China has remained the top tourist destination among low- and middle-income countries since it overtook Mexico in 1996. While Mexico's tourism numbers have dwindled significantly since, the list of top ten countries across all incomes for tourist arrivals still includes three low- and middle-income countries: China, Turkey, and Malaysia.
China's 57 million tourists also put the Middle Kingdom in the third position of most visited countries in the world, behind France's 83 million visitors and USA's 67 million sightseers (see table below).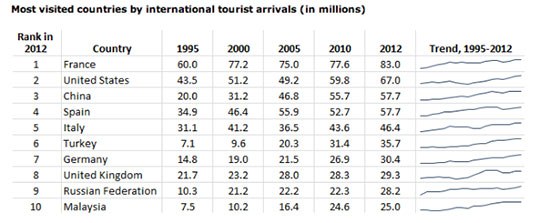 The World Tourism Organization predicted that China would overtake France as the world's top tourist destination by 2014.
Read the original article