Home
>
>
WeChat and LINE displacing traditional social networks; Asian travellers post 53% of luxury hotel reviews
WeChat and LINE displacing traditional social networks; Asian travellers post 53% of luxury hotel reviews
Brand Karma has released a study on the Asian luxury traveller & social media in partnership with International Luxury Travel Market (ILTM), analyzing millions of social media posts and online reviews from Asian luxury travellers to provide a unique lens into their behaviors. The findings are both encouraging and surprising, and we summarize them here.
One could argue that Asia is the region where social media matters most to luxury travel brands. With several of the largest countries in the world and a highly fragmented landscape of social media sites, Asia is both the present and future of luxury travel, and the epicenter of digital media growth over the next decade.
Our analysis showed Asian luxury travellers posted 53% of all luxury travel reviews written between 2012 and 2014, with social postings by Chinese luxury travellers increasing by 89% whilst other Asia Pacific regions saw an increase of 5%.
A global breakdown of luxury hotel reviews by the author's country of origin is shown below: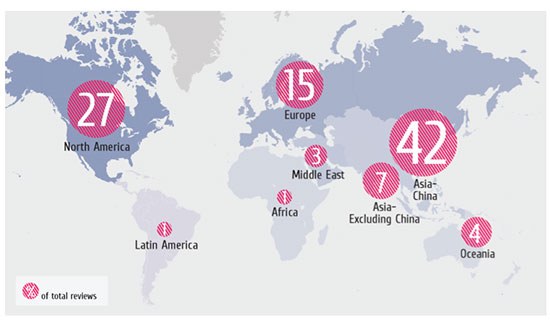 A megatrend that luxury travel brands cannot ignore is the rapid growth of mobile messaging applications like WhatsApp, WeChat, LINE, and KakaoTalk. Unlike the traditional social networks, mobile messaging apps have immediate access to a person's contact list via their mobile phone, leading to rapid connections and growth. While these apps were initially cautious about enabling brands to setup an official presence, WeChat and Line now have opened their doors to quality brands creating sales and loyalty applications, and managing customer support within their apps. Given the ubiquity of mobile messaging apps in Asia, travel brands have an enormous opportunity to innovate on these channels.
In terms of review sites, TripAdvisor receives the most reviews for luxury hotels globally (42.8%), but Chinese booking and review sites Ctrip, Qunar, and Dao Dao continue to gain share of global luxury hotel reviews globally (the three sites collectively comprise 22.2% of global luxury hotel reviews).
The report's breakdown of top hotel review sites is below:
As social media continues its shift from text to rich media (photos and video), there's an untapped opportunity for hotels to creatively drive F&B and Spa business on rich media sites in Asia.
While many luxury travel brands focus on social media to market their rooms, F&B and Spa comprise a significant portion of a hotel's revenue within Asia. Platforms like Instagram, Vine, and Pinterest remain green fields for creatively attracting the luxury traveller's attention for dining and personal wellness.
Additionally, our findings show Asian luxury hotel brands lead the industry in social commerce. While most global travel brands now use social media for growing brand awareness and fan acquisition, few have figured out how to monetize it directly.
However, hotel groups in Asia are using Facebook creatively to drive impressive numbers in direct bookings. By creating targeted social media ad campaigns based on key demographics and preferences, luxury brands can drive profit through the increased use of social media.
Regarding luxury traveller preferences, we examined the data in three segments – Mainland China, Asia Excluding China, and Oceania. In the table below, notice that all five of the top reviewed destinations for Chinese travelers are still within China, even though they are now the top outbound market globally. Travelers from Oceania are writing the most reviews about Singapore, New York City, and London, after Sydney and Melbourne of course.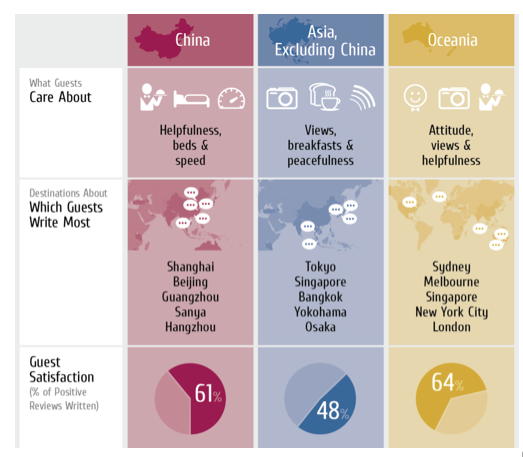 Read the original article