Home
>
>
Watch out: luxury travellers in Asia-Pacific are the most prolific on social media
Watch out: luxury travellers in Asia-Pacific are the most prolific on social media
Luxury travellers in the Asia-Pacific region contribute the highest online reviews amongst global travellers.
Or so says a survey by Brand Karma and International Luxury Travel Market after the pair examined social media patterns by luxury travellers globally, looking at their activity on various channels.
Online reviews and social media by geography
The social media health of a luxury travel brand is best indicated by the positivity and share-of-voice it attracts from two major sources: online review sites and social networking sites.
Asians (due to Asia Pacific's diversity, the region is subdivided into three distinct segments in this report: Mainland China, Asia excluding China and Oceania) luxury travellers are much more active in writing luxury hotel reviews and they represent 49% of all luxury hotel reviews globally. North Americans and Europeans account for 27% and 15% respectively.
Chinese luxury travellers wrote 89% more luxury hotel reviews in 2013 compared to 2012.
NB: All images in this article can be clicked for a higher resolution version.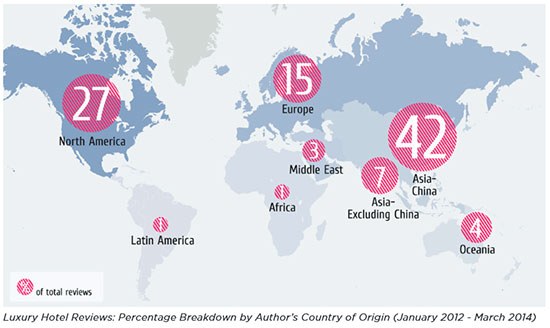 Middle East region tops the chart when it comes to luxury hotels with highest number of Facebook likes, the region sees an average of 19,316 Likes and 4.3 average rating for luxury hotels.
Luxury hotels in 'Asia excluding China' also see high Facebook participation, averaging 11,759 Likes and a 4.2 rating.
Though Facebook is officially blocked in China, the region's luxury hotels have an average Facebook like of 2,240. Luxury hotels in the mainland China are active on sites such as Weibo.
North America, South America, and Oceania have relatively similar numbers of Likes but achieve the highest average rating at 4.5, 4.4, and 4.5 respectively.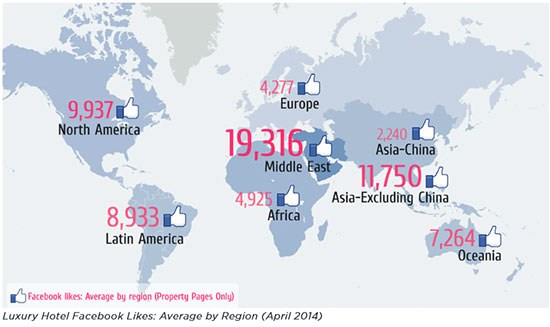 Review sites by hotel type
The study found several key distinctions between luxury and non-luxury hotels, as well as between luxury hotels within China and the rest of Asia.
TripAdvisor tops the chart with the maximum percentage (42.8%) of luxury hotel reviews than for non-luxury hotels (25.4%). China sees only 16.8% of luxury reviews posted on TripAdvisor.
Chinese booking and review sites Ctrip, Qunar, DaoDao (TripAdvisor brand in China), and DianPing continue to gain shares of luxury hotel reviews globally.
Chinese internet business giant, Tencent, recently launched its refreshed WeChat app that enabled users to post reviews to DianPing from the messaging platform itself.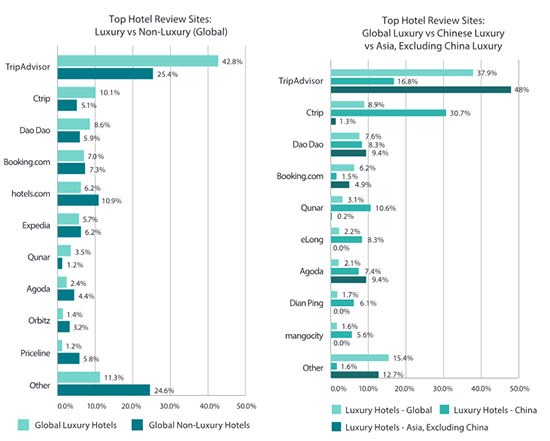 Guest experience: Delights and disappointments
Luxury travel brands should identify the various delight and disappointment factors for luxury travellers to serve them better.
Below chart (global) shows the various factors – green circle represent delight, and pink circle represent disappointment.
The difference in the size of the circle represents the impact of each category – number of mentions of a topic in online reviews.
Varying shades of green and pink represent the strength of positive or negative signals of luxury travellers.
The top three most satisfied travellers in Asia-Pacific include the Chinese, Australians, and Japanese.
Note: The full report has a similar chart for China and Asia excluding China regions. Its highly recommended to read those charts if you represent a luxury segment hotel.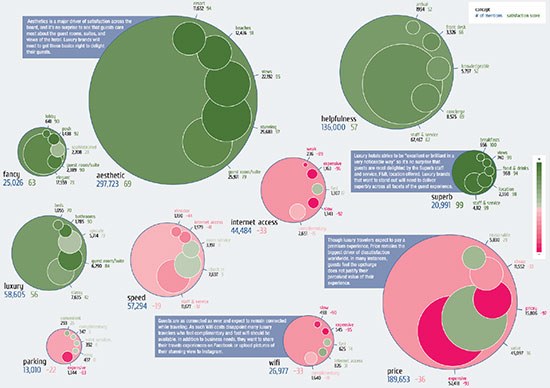 Comparing luxury travellers in APAC
Below chart compares various factors such as – what guests care, what guests write, % of positive reviews – across China, Asia excluding China and Oceania regions.
While there are differences between luxury travellers in these regions, there are common attributes too, for example, all three regions write more reviews on Monday than any other day of the week.
Chinese luxury travellers leave the highest percentage (61%) of positive reviews among the three regions.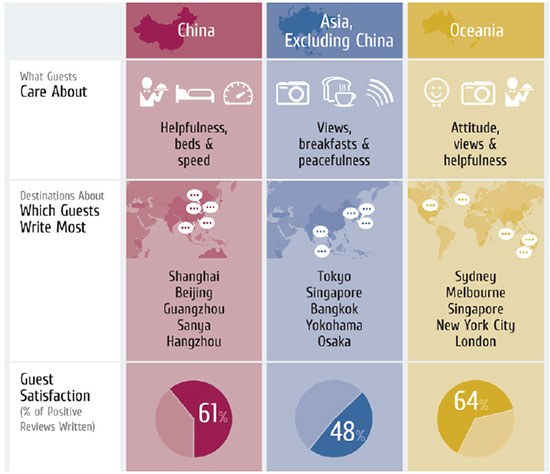 Key trends: Globally and within APAC
Below chart shows various trends (categorized as very strong, and strong) across the regions for mobile, reviews and photos & videos.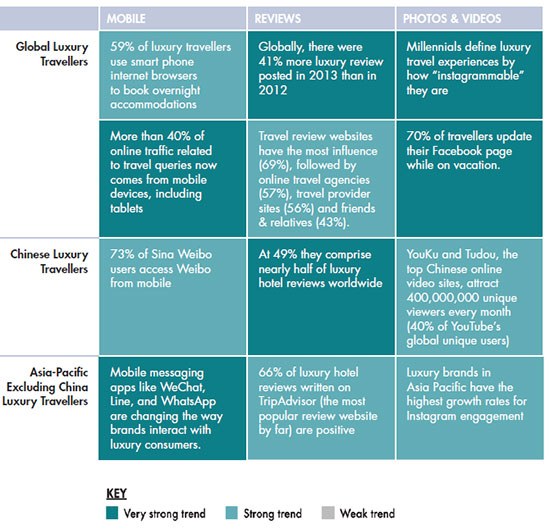 Study methodology
The study was conducted on social media and travel review sites between January 2011 and March 2014.
The data presented in this report has been analysed from 1,546,854 reviews written for more than 2,000 luxury hotels worldwide, which were specifically selected for this study.
Read the original article