Home
>
>
Travel firms urged to embrace smartphones to hold off mainland rival
Travel firms urged to embrace smartphones to hold off mainland rival
Hong Kong's travel agencies must embrace the smartphone revolution if they want to compete, one academic says, after China's leading online travel agency launched a mobile app for Hong Kong travellers.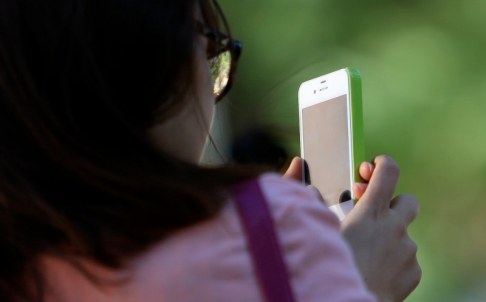 Well over half of Hong Kong smartphone users searched for travel related products or services
using smartphones last year. Photo: Bloomberg
Dr Dan Wang, an expert in mobile marketing at Polytechnic University's school of hotel and tourism management, says agencies risk becoming irrelevant if they fail to deliver a mobile platform for their customers.
"Nowadays, Hong Kong smartphone users browse information and do searches while they are on the road, shopping, watching TV," Wang said. "If a business wants to become relevant to consumers, access from a mobile platform is a must. And this access, whether it is an app, or QR code, or mobile-friendly website, has to be easy and attractive to use."
The technology race started to heat up in March when Shanghai-based Ctrip.com launched a localised mobile app, along with a website, ctrip.com.hk, in its latest bid to tap into the Hong Kong market.
Wing On Travel, a leading local agency owned by Ctrip, plans to follow suit with its own mobile booking app as soon as this month.
Ctrip has had a mobile booking app on the mainland since 2010. So far, it said there had been over 100 million downloads.
"While the mobile booking market share was a modest 4 per cent last year, this figure is expected to grow to 13 per cent by next year," said Jayne Goh, Ctrip International's marketing manager.
"In view of the huge volume of app downloads in mainland China, it is clear that the demand is growing," Goh said . "[Mainland] China is [Hong Kong travellers'] top travel destination for both business and leisure travel segments … Ctrip is confident that bookings on this mobile platform will see a similar level of rapid growth."
In research released by Google last year it was found that some 56 per cent of Hong Kong smartphone users had searched for travel related products or services using smartphones. This figure compared with the 52 per cent in mainland China, 40 per cent in the United States, and 59 per cent in Japan.
Hong Kong travel companies have been relatively slow in developing mobile transactions, partly because of the huge investment required.
Some travel companies here have developed their own mobile apps. But the apps work mainly like micro-websites where clients can acquire brief information of popular tourist destinations, cheap deals, itineraries of package tours, or upload and share travel pictures.
Wing On Travel chief executive Lanny Leung admitted that the company was feeling the heat and would launch a travel app that allows mobile purchase functions.
"We can't afford to stick to the old way of doing business. Our way of living, the way we trade, and the way we communicate have changed," said Leung. "Nowadays, we don't talk on the phone, instead, we tap on the phone [to send instant messages]."
Despite the increasing popularity of mobile purchases, Wang believes it is not all doom and gloom for high street travel agents. "Many traditional travel agencies have their bricks-and-mortar stores in residential areas and transportation hubs. Many consumers still find it convenient and easy to get help from the agents … This is also a consuming habit of travel products in Hong Kong," said Wang.
Reat the original article