Home
>
>
Economy class seats suck. Here's one way to reinvent them
Economy class seats suck. Here's one way to reinvent them
Singapore startup AirGo wants to right that wrong by developing airline seats that don't just look sleek; they could streamline an airline's business and offer unprecedented comfort to passengers.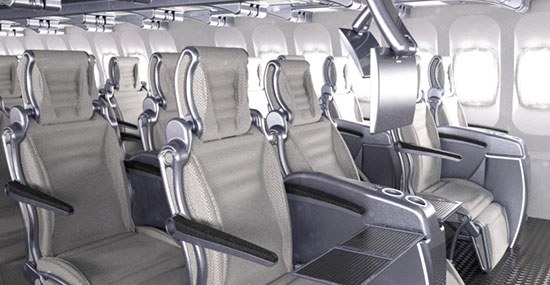 First class airplane seats have gone up in luxury, and some airlines even offer 'sky suites' that feel like hotels in the air. Yet the rest of us are stuck with economy class seats that have gone unchanged for decades. That's bad news if you're embarking on a long haul flight.
Singapore startup AirGo wants to right that wrong by developing airline seats that don't just look sleek; they could streamline an airline's business and offer unprecedented comfort to passengers.
"Unlike computers and mobile phones, airline seating technology in general hasn't changed much. They're all using same old configurations," says Alireza Yaghoubi, who founded AirGo as its CTO.
Airgo will construct the frame of its next-generation seats out of metal foam – a material that's as light as carbon fiber composites but cheaper to produce. It will use a self-cleaning fabric and a cushion that promises to be a lot softer and more durable than what airlines are using currently.
The cushion holds its shape better, decreasing the need for future replacements. Added together, AirGo's seat is more space efficient, giving four more inches of legroom than existing economy class seats with the same seat pitch.
Entertainment in the clouds
AirGo isn't just hardware: users can access personalized in-flight entertainment via a touchscreen – replacing complicated remote control interfaces found in existing planes. The device connects to a flexible arm that hangs from the top, ensuring that passengers don't leave the plane with a sore neck.
Taking into account that passengers often bring their own devices on board, AirGo will allow them to plug their gadgets into the system and view content through it.
AirGo will still have in-house content since some passengers don't think about how to pass their time on the plane. But instead of reinventing the wheel, the startup will use off-the-shelf tablets and a customized Android operating system.
Android makes sense because it opens up AirGo to hundreds of thousands of apps. As a result, a user could book a taxi or hotel before the plane touches down using apps like Grabtaxi or HotelQuickly.
What all these amount to is greater comfort for passengers on long flights and cost savings on airplane maintenance. It promises to be lighter, smarter, and three times more durable than products now in the market.
Assuming a 50 percent weight reduction for economy class seats, airlines along the LAX to JFK route could save US$19.2 million in fuel, 194,700 tons in Carbon Dioxide emissions, and US$8 million in carbon taxes per year. That's if all planes on that route completely adopt the technology. While AirGo costs more upfront compared to run-of-the-mill economy class seats, Yaghoubi believes the maintenance cost savings will more than make up for it.
This could be a godsend for the airline industry, which is notorious for its low margins. The IATA predicts that airlines will make less than US$6 in profits per passenger in 2014 – and that's a record year.
"Apple, on the other hand, makes about US$400 for every iPhone 5s they sell, if only the expenses for physical components are included," Yaghoubi says.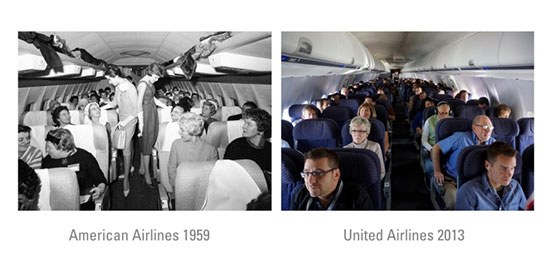 Like many startups, AirGo began as a paper sketch. Yaghoubi was at first conceiving of ways to optimize an office environment for workers who slog long hours.
"Then I went on a vacation to Iran," says Yoghoubi, then an engineering student in Malaysia. "While seating in economy class, I realized how cramped the space was, so I took out my iPad and quickly sketched the design." He went on to win the Malaysian national James Dyson Award.
The Apple of airplane seats
AirGo still has some ways to go before becoming reality. Self-funded for now, the company is in talks with investors and is aiming to secure an aviation innovation grant of up to S$2 million (US$1.6 million) from CAAS, Singapore's aviation authority.
AirGo's now in the design for manufacturing stage, and R&D for the materials are ongoing. Yaghoubi estimates that a trial implementation will happen by 2016, and the company is already in talks with four major airlines. Helping AirGo seal the deal is Jere Tala, the company's vice-president of sales and a 20-year veteran in the airline industry.
AirGo plans to target both the economy and premium economy classes. The latter recently surfaced post-recession in 2008 when airlines were trying to entice belt-tightening business class passengers to fly more often.
Yoghoubi admits that installing such state-of-the art technology will be "super expensive", which means customers will have to pay more to experience AirGo. But he's confident that they would willingly fork out that extra sum, especially on long haul flights.
"We're introducing a new angle. The answer to tight profit margins isn't squeezing more people into the cabin. It's creating more devoted and loyal customers that don't just go for cheaper prices."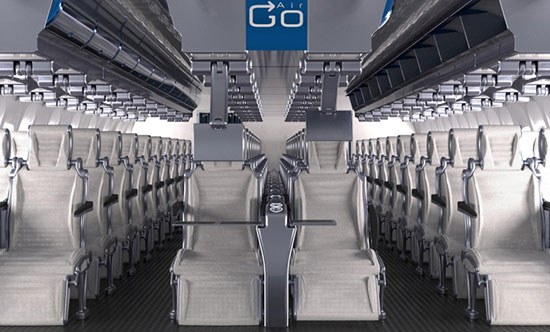 Read the original article