On 7th August, Daniel Zhang, CEO of Alibaba and Arne Sorenson, president and CEO of Marriott International announced in Shanghai an innovative joint venture to "redefine the travel experience for Alibaba's more than 500 million mobile monthly active users".
Led by David Chai, vice president of Fliggy Travel (formerly Alitrip), Alibaba's travel platform, the new company will focus on the digital integration of tools and services for Chinese consumers. For example, it will manage Chinese language versions of the Marriott and Starwood websites as well as its mobile apps and the Marriott flagstores on Fliggy and further realize payment capability of Alibaba's payment mechanism.
Drawing on resources from both Marriott and Alibaba, the new company will operate Marriott's storefront on Filggy. It will market directly to Alibaba's customer base, provide a link between Marriott's loyalty program and Alibaba's loyalty program, and support Marriott hotels globally with content, programs and promotions customized for Chinese travelers.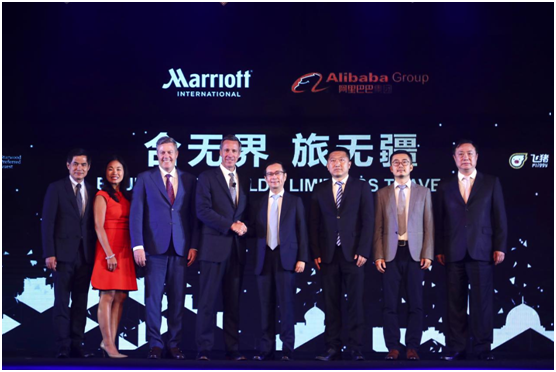 Over 6,000 hotels under 30 hotel brands of Marriott International will get access to the rising number of Chinese travelers looking for experiences outside China via Alibaba's online platforms. Marriott hotel owners and franchisees will also benefit from lower distribution costs via the partnership. Alipay will be available at Marriott hotels in some markets with expansion on the cards.
Both sides will benefit from each other's customer base. Through Marriott SPG Moments and Marriott Rewards Moments programs, Marriott will offer access to private concerts, family-focused experiences and court-side seats at sporting events, among other activities. Eligible members from Alibaba's loyalty program will benefit from personalized hospitality programs like Marriott's Li Yu for Chinese travelers and Marriott award-winning SPG ambassador program. What's more, loyalty platforms like Marriott Rewards, The Ritz-Carlton Rewards and SPG will be combined with Alibaba's consumers to establish the next-generation loyalty program.
At the beginning, the joint venture will target more than 25 global destinations including Dubai, Paris, London, Milan, Las Vegas, Venice, St. Petersburg, Mauritius and Maldives to provide seamless solutions in planning, booking, cashless payment, transportation, shopping and other local activities.
"By any measure, this is a great partnership for Marriott, we will be able to make global travel easier, offer VIP and personalized experiences to our guests, bring wallet-free travel to our hotels, and take our loyalty programs to the next level" said Sorenson.
Read Original Article