Booking.com seeks "appropriate partners and investment opportunities" in China
Booking.com is "concentrating on accommodation" in China and seeks "appropriate partners and investment opportunities", said Oliver Hua, managing director in Asia Pacific.
In an interview with Global Times (GT), Oliver Hua (Hua), managing director of Booking.com in the Asia-Pacific, shares his understanding of the Chinese market and the company's strategies for the coming years.
GT: Are there any challenges for Booking.com in China?
Hua: Mobile payments are really common in China due to the popularity of platforms like WeChat. So, this is definitely a challenge that we're learning from and adapting to quickly. Language is key to the localization process.
GT: Lots of Chinese online travel agents provide flight and hotel packages. Are you going to do flight booking services, or expand to other businesses?
Hua: For now, we're only concentrating on one thing and that's accommodation. We also care a lot about independent travelers' complete experience from beginning to end. As such, we will continue to seek appropriate partners and investment opportunities in the future.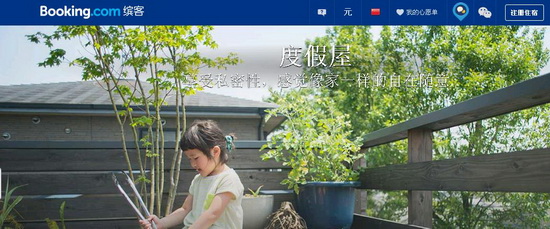 GT: What is your market strategy for 2017?
Hua: We will continue to leverage new technologies in order to create an even more customized customer experience on our website and mobile apps. We also look forward to continuing to build new relationships with accommodation providers across the country so that more travelers can discover the amazing diversity of stays that are available in China.
GT: Could you please describe Booking.com's development in China in recent years?
Hua: I'm very excited about how our business is developing in China. We're pleased with our growth and see potential for it to continue in the future.
Chinese customers are starting to demand more choice in terms of the destinations that they travel to and the types of stays they want to experience. Aside from hotels, some of the other most popular accommodation choices in 2016 include hostels, guest houses, apartments, apartment hotels and inns.
GT: How would you describe Booking.com's market performance in China?
Hua: China is one of the most important markets for Booking.com, and we have definitely been growing in China over the past few years.
Read original article