Priceline and Baidu increase stake in Ctrip
09/12/2016
|
11:29:49 PM
|
中文
Ctrip has announced that existing shareholders Baidu and Priceline Group have lifted their stake in the business.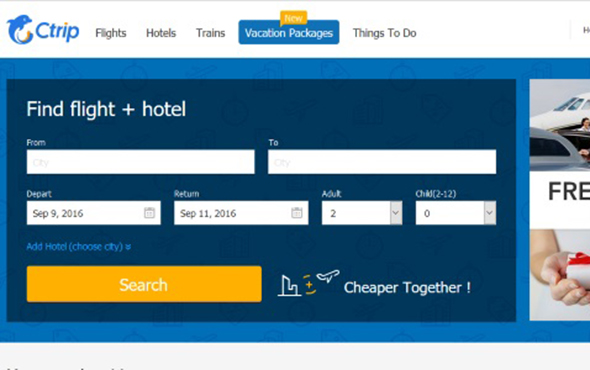 China's biggest OTA has released a flurry of related financial announcements over the past 24 hours. Initially the filings talked about Baidu and "a strategic shareholder", with a subsidiary of Priceline named as the strategic shareholder in a later release.
The scale of the Priceline's investment is relatively modest – it is buying $25m-worth of the announced convertible senior notes valued at a total of $750m. It will also take $25m-worth of ordinary shares.
Priceline has had a commercial relationship with Ctrip since 2012 and became an equity investor two years later. Last December it invested $500m, which gave it the chance to own up to 15% of Ctrip.
Baidu meanwhile ended up with a 25% stake in Ctrip as part of a share swap agreement last year which saw Ctrip take a 45% in Qunar, previously majority owned by Baidu. Baidu is committed to buying $100m-worth of the $750m-worth of senior notes.
Ctrip has also announced a proposed offering of 22,500,000 American depository shares.
The funds will supplement the $2.7bn worth of cash and cash equivalents held at the end of its the second quarter.
It is an active investor in the travel ecosystem. Its recent moves include taking stakes in India's leading OTA MakeMyTrip and in China Eastern Airlines. It has an independent hotel IT business Joint Wisdom, which is now listed on China's New Third Board.
Read original article