China Lodging keen on sustaining growth, plus better margin
China Lodging Group is optimistic that the key performance metrics would continue to show upward movement buoyed by quality of the product and a diverse brand mix.
ChinaTravelNews, Ritesh Gupta - China Lodging Group has once again validated their strategy that revolves around their multi-brand and asset-light operations. The hotel network is expanding and in conjunction with it the group's operating margin is going up, too.

The latest financial performance reflected the same as China Lodging posted a record high net profit in Q2, according to Jenny Zhang, chief executive officer of China Lodging Group. She singled out group's loyalty program, which currently has more than 61 million members. This segment accounted for more than 80% of room nights sold during the April-June period.

The company has also reaffirmed that their 2016 full year net revenues is tipped to grow 12%-15%. Importantly, adjusted operating margin was at 16.9% for Q2, up by 2.3 percentage points for the same period last year.

Net revenues grew by 13.7% while income from operations and adjusted EBITDA grew by 31.9% and 51.4%, respectively, for Q2.

At the end of June, China Lodging had a network of 3,114 hotels or 314,811 rooms in operation, covering 357 cities in China. In all, 12 brands are under management. Other than refurbishing the HanTing brand, the strategic focus is on fast expansion and direct sales. And the group underlined that all these are being primed for fruitful results in the future.

Consolidating "loyalty"

One of the major achievements of the group has been ensuring the loyal base of customers not only continues to grow, but it also spends on a regular basis. In comparison, the HuaZhu Club, which covers all brands that are part of the group, had crossed the 49 million-mark for its member base at the end of the last year, expanding from 31 million or so in 2014. It is being asserted that the ploy of counting on such program to run relatively lower-cost marketing campaigns and keeping a track of members' information and preferences is paying off, as the base is not only growing substantially to 61 million, but it is also resulting in revenue generation, too. The club has several levels of membership, and entices members to upgrade by paying RMB39 - RMB198.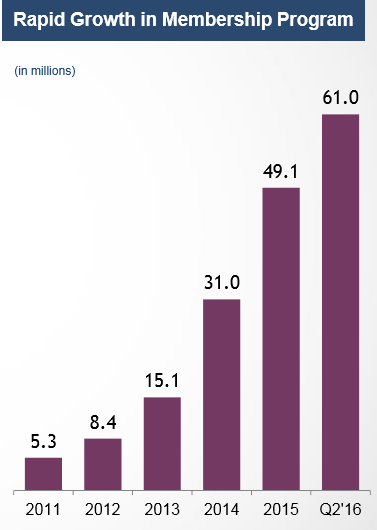 Last year more than 80% of China Lodging's room nights were sold to this program's members. In addition to room revenue, the group is also trying to monetize the tier-level, for instance, via discounts on room rates, free breakfasts etc. The team is also encouraging other buys/ paying for amenities and in return offering points, gifts etc. Plus, partnership marketing i.e. working in conjunction with financial institutions and airlines, is also being focused upon.

Another dimension is the strategic benefits that the alliance with Accor brings. In Q2 results, the group emphasized that members benefit from expanded hotel choices with more than 6,500 hotels combined worldwide.

The group garners from franchisees a membership registration fee to service customers who join the loyalty program at the manachised (franchised-and-managed) hotels.

One of the other areas that the group singled out for its sustaining its momentum is direct sales. In Q2, close to 89% of room nights were sold through the company's own channels. Even with growth, the group has managed to hold on to this share. China Lodging, which has worked on its real-time inventory management capability, sod 90% of room nights via their own sales platforms in 2015.

Performance of HanTing 2.0

The team also referred to the redesign and upgrade for HanTing brand, an initiative taken early last year.

Referring to the performance of this brand, Zhang said, "The HanTing 2.0 achieve higher RevPAR than the older version, it also showed positive same hotel RevPAR growth year-over-year." Also, when we compare the way the group has been expanding the new version, 18% of HanTing brand hotel room inventories were under HanTing 2.0 model at the end of Q1. "At the end of Q2, about 24% of HanTing rooms were under HanTing 2.0 model, increasing from 17% at the end of 2015. With those efforts, we aim to bring HanTing's RevPAR back to growth mode in 2017. Our second strategic focus is to continue fast expansion," shared Zhang.

Mid-scale and upscale hotel mix

The revenue contribution from mid-scale and upscale hotels was 29% of total net revenue in Q2, up by 7 percentage points from 22% a year ago.

The RevPAR for mid-scale and up-scale hotels posted a high single-digit growth on a like-for-like basis, the same-hotel RevPAR improved by 8.6% in Q2.

"Shanghai Disney was officially opened to the public on June 16. This has helped to bring additional leisure travelers to Shanghai," stated the group. At the end of June, the group had 13% of hotels and rooms in Shanghai. Around 11% of the hotel pipeline is in this city.

"This is the second quarter for us to show a RevPAR growth. We are positive that this trend will sustain as driven by our operating hotel quality and hotel brand mix," said Zhang.
At the end of Q2 2016, about 76% of the group's hotel rooms were in the first and second tier cities. An area of concern was the relatively lower occupancy rate in the lower tier cities. This, in fact, impacted the group's blended occupancy rate in Q2. It was 85%, a decrease of 0.6 percentage point y-o-y.

The blended RevPAR was RMB157, an increase of 1.1% year-over-year. Zhang explained that this resulted from the strong performance of mid-scale hotels (increasing at 8.6% for Q2).

The blended ADR was RMB184, an increase of 1.8% year-over-year as a result of a more favorable brand mix, shared the group.

Zhang shared that the group remains on track with new openings in the range of 700-800 hotels. Considering the closure of properties planned for this year, the total net openings would be 600-700 hotels. This figure is close to what China Lodging indicated at the beginning of the year, said Zhang. "(As for) HanTing 2.0, we still maintain our target of 35% of the rooms that are upgraded at the end of this year." As for the market outlook, the group emphasized that the branded chain penetration in the economy and mid-scale market is still very low. So there is plenty room of growth and consolidation.