HNA to buy an 80% stake in Swiss plane maintenance SR Technics
07/15/2016
|
5:59:24 PM
|
中文
HNA, a Hainan-based global enterprise group, plans to buy 80% shares of SR Technics, a Swiss plane maintennance company that has 3,300 employees and supports 1,050 aircraft.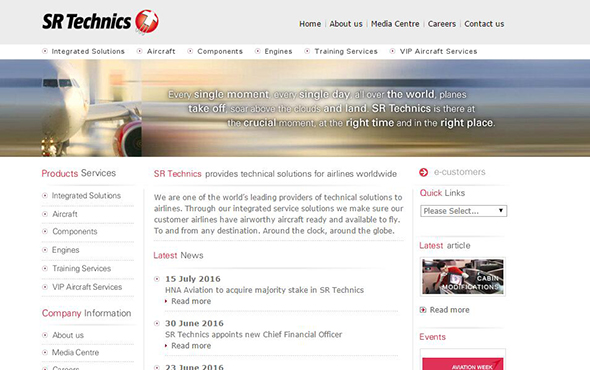 China's HNA Aviation agreed to buy a majority stake in SR Technics, a Swiss aircraft-maintenance service provider, from Mubadala Development Co. for an undisclosed amount.
The Abu Dhabi government-backed investment fund will sell 80% of SR Technics and retain the rest in a deal subject to regulatory approvals, the Zurich-based company said in a statement. SR Technics has 3,300 workers and services about 1,050 aircraft, according to its website.
The latest acquisition by the HNA Group, a Chinese airlines-to-supermarkets conglomerate based in Hainan, will add to a series of aviation assets it has been buying around the world as billionaire founder Chen Feng expands his empire beyond Hainan Airlines. The group is currently in the process of acquiring Gategroup Holding AG, a Swiss inflight caterer.
Mubadala was part of a group of three United Arab Emirates-based investors that bought control of SR Technics in 2006. In 2011, Mubadala became the sole owner of the company, which was spun off from the maintenance and engineering business of Swissair, the Swiss carrier.
Mubadala was set up in 2002 to help diversify the U.A.E. economy from fossil resources to industries including aerospace, real estate and financial services, with a portfolio of activities now valued at about USD 67.1 billion, according to its website.
Read original article