Google adds airfare tracking, hotel deal spotting to its metasearch
07/13/2016
|
9:03:22 PM
|
中文
Google has begun adding airfare tracking, more filters for hotel search and hotel booking advice to its flights and hotels metasearch on both desktop and mobile.
Google has begun adding a few tricks to its flights and hotels metasearch on both desktop and mobile.

All of them have been pioneered elsewhere. But their adoption by Google may bring their usage to a wider audience, given the search giant's mammoth popularity.

Airfare tracking

Users can now choose to track price changes for date and route combination on specific flights. Notifications are sent either by email or Google Now cards (to Android devices).

The tool will appear within the next month in the 26 countries where Google Flights is offered.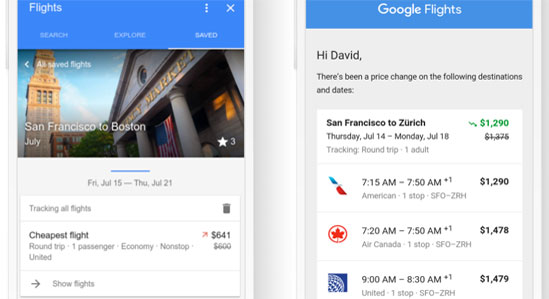 The flight tracking tools bring Google onto the turf that has, until now, been owned by an array of small companies, such as FareCompare, Hopper, Yapta, and TripAdvisor-owned Airfarewatchdog — though those companies also offer other services.

To be sure, Google's rivals in metasearch, such as Kayak and Skyscanner, have already been offering price alerts for some time.

More filters for hotel search

Google is adding filters that are based on more granular shopping needs, such as hotel rating or rate range, with one tap on their mobile devices. This functionality debuts in the US now, and will be added worldwide soon.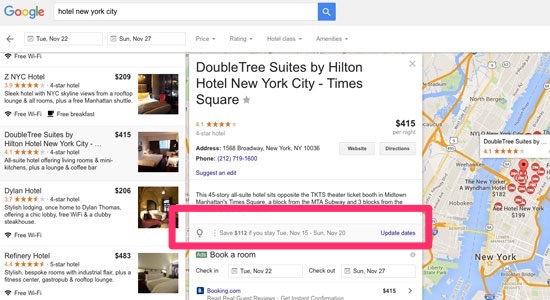 Again, other metasearch players, such as Kayak, Skyscanner, TripAdvisor, Momondo, and Hipmunk, have offered filters in various creative ways.

Yet Google's development of "smart filters" is intriguing in the context of its plans for Google Assistant, a natural-language, conversation-based search tool that the company has shown can help with travel planning.

Google execs explained at a press conference in New York City that the goal is to let users search for specific criteria like "family friendly hotels in Chicago under $150".

Hotel booking advice

In a move that may catch the attention of hoteliers, Google's algorithms will now apply a "Deal" label to spotlight hotel rates that are lower than usual compared to the past or when there are discounts to the normal rate for those dates.

Google sees that hotels labeled as "deals" receive about twice as many bookings as other hotels through its platform, and that the deals are automatically identified by the search engine's algorithms when it sees a sharp drop in a rate.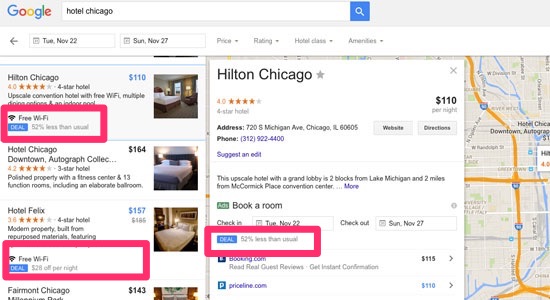 It was only four months ago that Google updated its default search interface to enable more inspirational, flexible search.

Speaking about that, Google executives say their view is that many consumers come to its metasearch while they are in the inspiration stage and that the company needs to do a better job of converting at that inspiration stage than providing its classic 10 blue links.

The company continues to be displaying an interest this year in doing more in travel. This summer it hopes to launch a destination guide app called Trips. And, as mentioned, it's working on voice-powered search tools that have travel applications, such as Google Assistant and Allo.

While these changes come to both desktop and mobile, mobile is where Google says it is focused.

Mobile's share of travel site visits increased to 40% in the last year. Google saw a 10% increase in mobile conversion during that period.

Another notable fact: One-third of Google Flights referrals to partner sites are from users on mobile devices.

Additional marketing research

Google's marketing arm is also releasing a new guide elaborating on how travel suppliers can take advantage of its micro moments concept ("intent-driven moments of decision-making and preference-shaping that occur throughout the entire consumer journey") See Think with Google's Travel Micro Moments.

In its marketing survey (not limited to Google's platform), one in three leisure travelers said they haven't typically decided on a specific destination when they first start thinking about a trip. Other stats include that 78% have no specific airline in mind, and 82% have no specific hotel brand in mind, when they begin trip planning.

Read original article