AirAsia eyes Hong Kong listing and China JV
07/11/2016
|
6:27:32 PM
|
中文
AirAsia plans a dual listing in Hong Kong to become a pan-Asian low-cost airline as it also moves toward setting up a joint venture in China.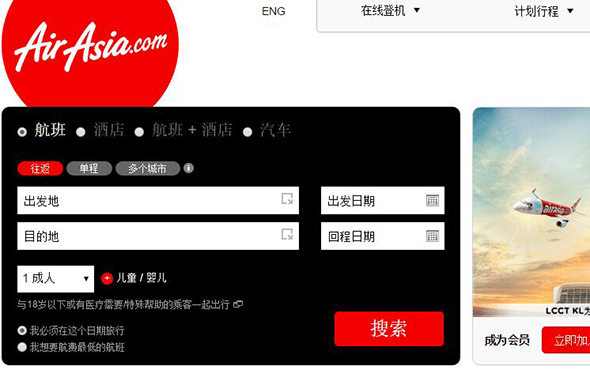 AirAsia is studying a dual listing in Hong Kong, part of plans to become a pan-Asian low-cost airline player as it also moves toward setting up a joint venture in China, people familiar with the matter said on Sunday.
The Malaysia-based group is simultaneously looking for more aircraft to meet strong demand in North Asia and elsewhere, the people said on the eve of Britain's Farnborough Airshow.
Asia's largest low-cost airline group, which already has affiliates across Southeast Asia, aims to form the venture with the backing of a Chinese state-owned enterprise (SOE) to help capture traffic from fast-growing secondary and tertiary cities.
The airline group is talking to Chinese banks and potential shareholders including China Everbright Bank, one source said.
Expansion into the world's fastest growing aviation market comes as China edges toward overtaking mature Western air travel markets despite recent slowing economic growth.
A Hong Kong listing could help to raise the company's profile, coming on the heels of the flotation there of aviation lessor BOC Aviation, and allow it to raise new capital.
China contributes nearly 40% of the group's revenues, but the company thinks that there "is still a lot to do in North Asia, ... an important long-haul market".
The budget carrier told a Shanghai news reporter that it might set up a joint venture in China's second- or third-tier city as lower-tier market contributes the lion's share of profit in the country. AirAsia has been adding more point-to-point services from Malaysia and Thailand to North Asia.
The goal, added this source, is to use AirAsia's short-haul and long-haul units to connect passengers from North Asia to Southeast Asia and Australia.
AirAsia operates over 220 flights daily to and from Kuala Lumpur, connecting to over 100 destinations in 24 countries.
Read original article