Disney helps China buck economic doom and gloom
China's slowing economy isn't putting the brakes on tourism
Shanghai Disneyland attracted almost 1 million visitors to its public areas weeks before the USD 5.5 billion theme park officially opens June 16. And tourism spending is likely to triple by 2020 after industry investment jumped 42% last year, the government says.
Travel is a bright spot in the slowing economy. It helped services account for more than half of output last year for the first time ever, offsetting slower manufacturing growth. Policy makers plan to use development of tourism--which already employs almost 28 million people--to help lift 12 million people out of poverty in the next five years.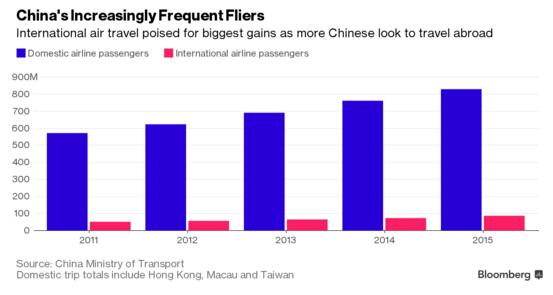 Air:
Last year's 829 million domestic airline passengers were up 45% from four years earlier, while the 86 million international flights were a 74% jump, Ministry of Transport data show.
Boeing sees China demand generating almost USD 1 trillion in orders for 6,330 new planes over two decades as it becomes the world's largest domestic air travel market, according to an August 2015 press release.
Land:
China, operator of the world's biggest high-speed rail network, plans to stretch it even further in five years: to 30,000 kilometers from 19,000 kilometers. Premier Li Keqiang has said rail spending "kills several birds with one stone" by cushioning the economy in the short-term while boosting long-term efficiency. Auto sales climbed to 21.1 million last year, double the 2009 level.
Sea:
The still-new cruise industry is spurring operators to relocate more ships to China. Carnival Corp., the world's biggest, says its best growth is in China. "We feel really, really bullish in China," Chief Executive Officer Arnold Donald told Bloomberg in a March interview. "We're still at the very beginning."
Fun:
Billionaire Wang Jianlin was less welcoming of Disney than Xi, saying the company's first mainland theme park is no match for his "wolf pack," the Dalian Wanda Group Co. entertainment conglomerate, which is building 15 to 20 theme parks.
U.S.-based theme park operator Six Flags Entertainment also is getting in the game, aiming to open a park every year for 10 years in China beginning in 2019.
Read original article