TripAdvisor first-quarter net income drops 57% in 2016
05/05/2016
|
11:39:26 AM
|
中文
TripAdvisor posted 57% decline in net income to USD 27 million in the first quarter of 2016 as the company is spending on building its own internal booking system
TripAdvisor announced on May 5 financial results for the first quarter ended March 31, 2016.
"With the global launch of instant booking now substantively complete, users around the globe can now seamlessly book hotels on TripAdvisor," said Steve Kaufer, President and Chief Executive Officer of TripAdvisor. "Enabling users to book on TripAdvisor is an imperative step as we continue navigating the path towards creating the best user experience in travel."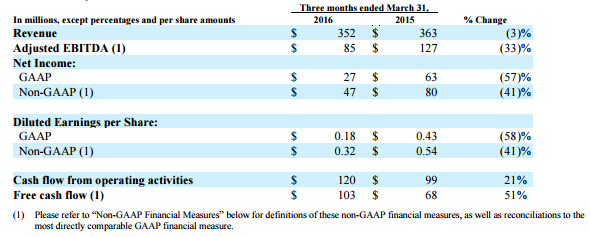 Chief Financial Officer Ernst Teunissen added, "We were pleased that our first quarter Revenue and Adjusted EBITDA performance was in line with our internal expectations. While instant booking remains dilutive to our Hotel segment revenue growth and profit margins in the near-term, we are pleased by early results and believe we are well-positioned for long-term growth."
First Quarter 2016 Highlights
* Revenue decreased to $352 million, down 3% year-over-year (a decrease of approximately 1% on a constant currency basis).
* Adjusted EBITDA was $85 million, or 24% of revenue.
* GAAP net income was $27 million, or $0.18 per diluted share.
* Non-GAAP net income was $47 million, or $0.32 per diluted share.
* Cash flow from operations was $120 million, or 34% of revenue.
* Free cash flow was $103 million, or 29% of revenue.
* Average monthly unique visitors reached 340 million*.
* User reviews and opinions reached 350 million at March 31, 2016, covering 1,020,000 hotels and accommodations, 775,000
vacation rentals, 4.0 million restaurants and 655,000 attractions and experiences.
* Global launch of instant booking enables users around the world to seamlessly book more than 500,000 hotels on TripAdvisor
sites.
* Mobile reached 54% of total unique users and app downloads reached 315 million as of March 31, 2016.
Revenue for the first quarter of 2016 was $352 million, a decrease of $11 million, or 3%. Excluding the impact of year-over-year changes in foreign exchange rates, revenue would have decreased by approximately 1%.
Adjusted EBITDA for the first quarter of 2016 was $85 million, and Adjusted EBITDA margin was 24%. Hotel segment Adjusted EBITDA was $106 million with a 35% Adjusted EBITDA margin and Non-Hotel segment Adjusted EBITDA was negative $21 million, with a negative 43% Adjusted EBITDA margin.
A Bloomberg report said that TripAdvisor is building its own internal booking system to let customers who use it for hotel reviews reserve their rooms without leaving the website. Investment in that platform hurt the company's hotel revenue.
Read original article