Home
>
Corporate News
>
Hilton signs exclusive agreement with Plateno for major expansion of Hampton in China
Hilton signs exclusive agreement with Plateno for major expansion of Hampton in China
Hilton signed an exclusive license agreement with Plateno Hotels Group to launch Hampton in China, with which Hampton plans to have over 400 deals signed and have the first hotel open by the end of 2015.
Hampton by Hilton, a hotel brand in the mid-priced segment with nearly 2,000 properties in 16 countries, signed an exclusive agreement of license with Plateno Hotels Group, a hotel operator five brands with a portfolio of over 3,000 hotels in 300 cities across China and operates China's largest hotel loyalty program, reaching 80 million members.
China has a growing demand for the mid-scale hotel market and has a low supply of 3- to 3.5-star hotels. Hampton has designed a 3-star hotel prototype to fit top-tier cities in China, serving value-conscious, quality-driven business and leisure travelers. Plateno Hotels Group will lead the development and management of the hotels.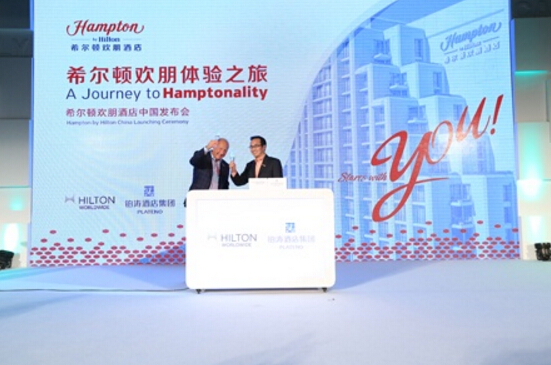 Guests of Hampton by Hilton hotels in China will be able to participate in the globally recognized loyalty program, Hilton HHonors. Plateno Hotels Group operates China's largest hotel guest loyalty program with more than 80 million members, which will provide a new source of guests for Hampton by Hilton in China.
Hilton Worldwide currently has a footprint of five brands operating more than 17,000 rooms in China with nearly 50,000 rooms in the pipeline. The hotel company plans to set up 206 more hotels in China out of the total 266 in Asia-Pacific, while the hotel company currently has 71 hotels in Asia's biggest economy.
Read original article